Week 115: … and home again
We spent the last three days of our holiday in Brisbane. We got a lift to Nambour (from where most of the trains terminate) and took the train to the city. It's not a particularly regular service, but it was comfortable, inexpensive, and, most importantly of all, air conditioned.
We arrived in Brisbane in the mid afternoon on Monday, and stepped out into hell. I have been to places that are hotter and more humid, but in Brisbane that's combined with a pedestrian-hostile, car-centric urban plan that forces you to stand in the baking sun for several minutes every time you need to cross a road, which is often.
It's not all bad, though: the Museum of Brisbane in the City Hall was an unexpected gem, a varied and interesting collection with some fun interactive installations that made it one of my favourite museums of the whole trip.
There's a free catamaran ferry service, the CityHopper that goes down the river and back, and was an excellent way to see everything from the water in comfort.
We went on a tour of the Parliament House of Queensland and watched an MP talking about crime in his constituency. Not a great advert for wherever it was.
Being Brisbane, of course, they've built a motorway right next door to to the parliament. There are a lot of motorways.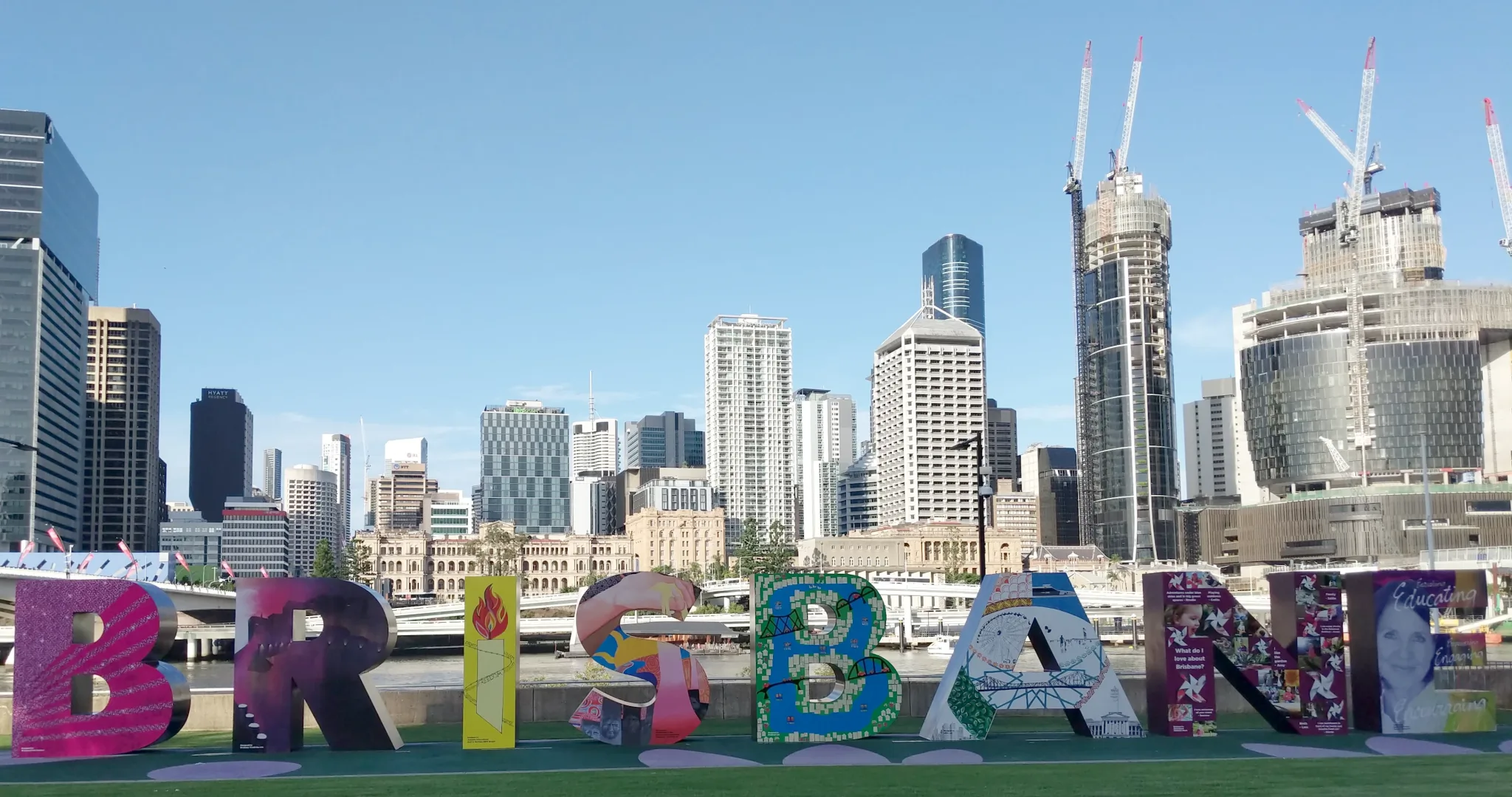 After all the hassle of trying to obtain Go cards to get out of Sunshine Coast airport (previously), we had the last laugh. We each had about $5 left on our cards as we were heading to Brisbane airport. We knew that the fare was about $20, so we wanted to top up our cards. And as I still had a few banknotes left, which I'd taken out just in case of an event that never transpired because everywhere takes cards, and often only cards, I wanted to use those. But the staffed desk didn't take cash, and the machine would take cash but not give change, so in the end I thought, well, it will let us get on, and we'll address the shortfall at the other end.
What actually happened was that we tapped out at the airport and the machine cheerily showed a balance of −$15.67. I might regret that if I end up stuck at Sunshine Coast Airport again, but I hope that by next time they'll have completed the implementation of contactless payments that they're currently trialling on part of the network. It works that way in London and Sydney and it's much more convenient.
The flight back was long, but uneventful. We had a long layover in Dubai, an especially pricy, charmless and gaudy mall even by airport standards, but which had one saving grace in that you can buy melatonin tablets there. They're not controlled in the UK, but you can't buy them without a prescription, which is annoying considering that they're a safe and effective treatment for jetlag.
I don't think I'd choose to fly with Emirates again, though. It felt a bit like a long-haul version of EasyJet: you have to pay to choose a seat (we didn't), and they had the most stringent and zealously enforced restrictions on cabin baggage of any part of our journey. We had to check what had been carry-on on our previous flights with Qantas and Virgin Australia.
I didn't watch a lot of films on the flight – I prefer to read or drift in and out of sleep listening to a radio drama or a podcast – but I enjoyed the two I saw: EO, a moving, mostly wordless film about a donkey, and Nope, simultaneously chilling and gleefully absurd.
Heathrow airport was, to my surprise, fine. Passport control took moments. The bags we'd had to check rolled out on the conveyor almost immediately we arrived.
And then we had to wait about forty minutes for the Elizabeth line train because of track problems. The Piccadilly Line would have been faster after all. But we got home in the end, and not too late.
On Saturday, I went up to Hoxton for the London Synth and Pedal Expo. Normally, that would have been an easy journey, but there were no Overground trains and so I had to take the slow bus. I made it within fifteen minutes of opening, which turned out to be fortuitous as the event was packed and by the time I stepped out for a coffee, a queue had formed all the way down the road and back again of people waiting to get in.
It was interesting, but because it was so crowded it was hard to see things. I hope they find a bigger venue next year.
I chatted with the person behind Bleak District Electric and ended up buying the fun and weird RecHead pedal with a generous show discount.
However, my plans to play with it when I got home didn't go so smoothly. I had tidied away all my IEC C13 cables (aka "kettle leads") so I headed up into the loft to grab one for my amp. The catch on the sliding ladder failed, and one of the sections fell straight down onto my fingers.
I feel lucky to have escaped with only very bad scrapes and a lot of bleeding, but with my fingers bandaged up I can't bend them to play guitar. I had a go, though, and managed pretty well with just my unharmed index and little fingers. You only really need a root and a third to express a chord. There is that thing about embracing constraints in art, and I did come up with some new ideas that I wouldn't have otherwise.
A while back, I heard an interview with Richard Dawson on the radio in which he explained his unorthodox guitar tuning and how he had evolved it after an injury. Here it is in his own words from a Reddit "ask me anything" thread:
i came to this tuning by accidnet, i'd broken my little finger horsing around outside of a pub. i had loads of gigs coming up and they had to put this suzuki-frame on my little finger which made it impossible to play any of the songs. so i learnt a few songs in an open tuning (it was dadf#ad but now i play that dropped two places).
I don't think I'll need to go that far. I hope not.