Week 114: Melbourne, Sunshine Coast, K'gari
We spent our last day in Melbourne exploring the area to the east of the CBD: Fitzroy, Collingwood, and Abbotsford Convent, which isn't a convent any more, but a community of artists. Most of it was closed, but we saw a couple of video installations.
The journey from Melbourne to Noosa went anything but smoothly. The plan was that we'd catch our flight up to Sunshine Coast Airport in the morning, and my sister in law would pick us up before she went to work in the afternoon.
What actually happened was that our flight was delayed, so we eventually landed several hours later than planned, in the least well appointed airport I've ever been in.
But it's OK, there's a bus from the airport to Noosa. Except – you can't buy a ticket with cash, you have to use the South East Queensland electronic transit "Go card". Fine. But you can't buy one of those cards at the bus stop. The only place to buy them at the airport is a café that was already closing, but where they were able to tell me that they had sold out of cards in any case.
So in the end, we threw ourselves on the mercy of the bus driver and got a free journey, via a circuitous route via what felt like every roundabout in the state, and we eventually made it to my brother's house.
On Wednesday, L— and I took the Greyhound Bus up to Rainbow Beach for one night. The journey was fine, if a little slow because of a half hour rest stop on the way. We took advantage of that to eat a vegan "meat" pie (which seems to be a brand new addition to the range) and chips at Beefy's. I'm told it's an Australian road trip institution, and it was a very good pie.
Rainbow Beach was quiet. We went out for dinner fairly early, which was lucky, because there were only a couple of places open, and the one we went to closed the kitchen at half past seven.
The next day, we got up early for a 4WD tour of K'gari (aka Fraser Island, although having heard the history of how that name came about and the consequences thereof, I'd far rather use its original Butchulla name). Despite what looks like a consonant cluster at the beginning, it's pronounced more like /gɑri/.
K'gari is a beautiful place of giant trees and rainforests, despite the vicissitudes of sand mining, logging, and a significant bushfire in 2020. We saw a few dingoes on the beach – they're smaller than I expected.
On Saturday, we all went for lunch and a walk through the Mary Cairncross Scenic Reserve. It rained and both my nephews got leeched. (I was fine, thanks to socks and trousers.) We saw several pademelons, which I'd never even heard of before. They're cute little things, like tiny wallabies. One was nursing a joey in its pouch.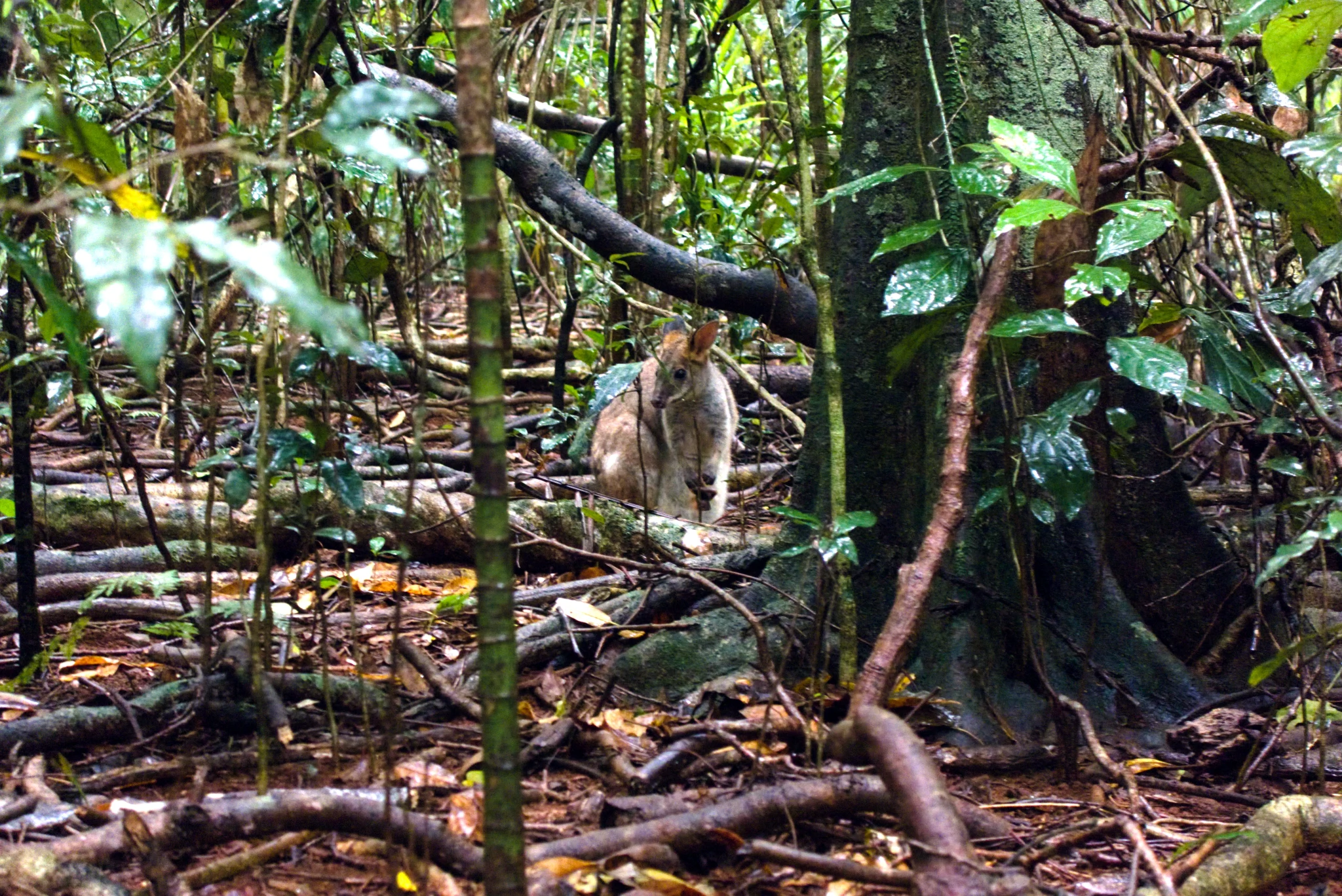 After a game of Settlers of Catan on Friday morning, abandoned after several hours with my nephew I— declared the winner, and me a respectable second place, L— and I took the ferry from Tewantin to Noosa and back with a stop of an hour and a half on Noosa Beach. The weather at the beach was fine, and we had a beer overlooking the surfing festival and Brazilian carnival dancers (music better than the dancing, if I'm honest).
On the way back, apocalyptic clouds turned into torrential rain, and some very close lightning strikes. It was eerie to look out the window and see nothing but a white expanse, broken only by the ghostly shape of another boat following a similar course.
On Monday we head down to Brisbane for the last stop on our holiday tour.