Week 35: A trip to the seaside
I did the bank holiday week backwards: I worked on Monday and Tuesday and took the rest of the week off instead. L— also had the week off, so we took a trip to the seaside for a few days, to Margate. I'd never been before, and it's one of those places that has a reputation as being a bit arty, so it seemed interesting.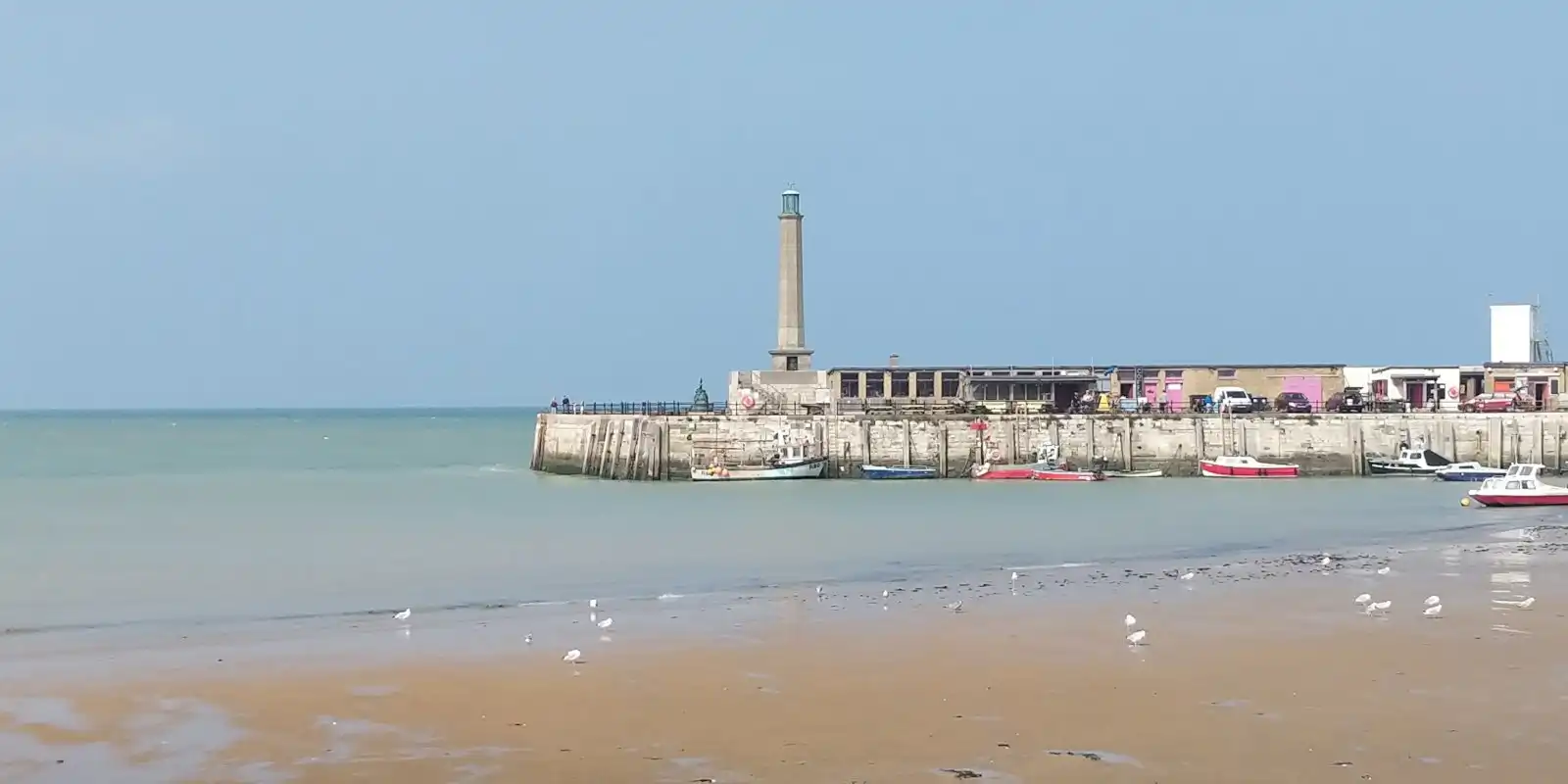 It's annoying to get to Kent by train from south east London. First, we had go all the way in the wrong direction to Victoria, before we could take a train back the way we had come. We could have driven, I suppose: it would have been quicker and cheaper and a bit less smelly, but much less relaxing.
It was cloudy and a bit chilly for the first two days, so we only really saw the town in the sun on the morning we left. But that was OK: we had brought appropriate clothing for the English seaside.
I enjoyed a visit to the local microbrewery Xylo, and tried some mezcal at Mariachi, so new it's not even on the map yet. I think they only opened last week.
The Turner Contemporary was quite a quick visit. It's not very big. But I really liked Ellen Harvey's work: the Disappointed Tourist is a hauntological guidebook to places I'll never be able to visit, and Alien Souvenir Stand had me laughing out loud with its future alien archaeologists' interpretation of Washington DC:
it may have been a food storage center for Pillar-Builders preoccupied with Pillar-Building and flirting. A rival theory is that it housed cellulose rectangles (much like those found in the recently discovered Pillar-Builder Archive) that served as patterns for the appendage-made tokens exchanged during flirtation. A more radical theory holds that such cellulose rectangles would have served both as food and as flirtation tokens
Route planners aren't infallible, and they really seem to struggle with journeys where the simplest option involves a bit of walking at each end. There's a simple way to get to Brockwell Park from our house in Rotherhithe – a short walk, a £1.50 ten-minute train journey from South Bermondsey to North Dulwich, and another short walk – and then there's all the ways that the route planners will tell you, involving a 75-minute epic bus voyage, or the Underground all the way to Green Park, back out on the Victoria line, and then a walk from Brixton.
I assume that calculating walking possibilities at both ends expands the search space too much for the computing power available. And I guess the computer wouldn't know to check whether Millwall (right next to the station) are playing or not.
But yesterday, they weren't playing, so we took just that route to meet up with a few friends for a day out at the Mighty Hoopla festival. It had been a long time since I've been anywhere with quite that many people – I read 25,000 – even before all the recent Unpleasantness. I'm certain that I've ever seen as much diversity of costume in one place before.
For the obvious age-related reasons I appreciated the prevalence of 90s acts, especially Gabrielle on the main stage. I felt sorry for the compère who had to tell a tent full of people that Katie Price had cancelled because her horse died.
It was fun. It was tiring, and a bit overwhelming. I'm not used to all that jostling. I was glad to go home to sleep in my own bed.
We didn't bump into Leo.