After the untimely demise of my previous folding bike, I went and ordered a Brompton, and I've been riding it almost daily for the last couple of months.
I've become very keen on the flexibility and general usefulness of folding bikes. They're a solution to London's rampant bike theft problem: Instead of carrying around heavy locks (which are never enough) I can just take my bike with me. I can take it on the train if I'm going further afield or just feeling lazy. Even not having to unlock and lock at each end of a journey saves about five minutes: I just ride right up to the door, fold, and walk in.
So I definitely wanted another folding bike. My decision to get a Brompton was prompted by two things: I'd seen how convenient and robust a colleague's Brompton was, and I'd been impressed by the Brompton riders on the Dunwich Dynamo.
I ordered a custom specification for my Brompton. This doesn't cost any more money, but gives you a wider choice that just buying whatever shops have in stock. And, obviously, it takes a bit more time. I was quoted "four to six weeks" and "six to eight weeks" by different people at the shop. In the end, though, I was riding the bike only two weeks after placing the order!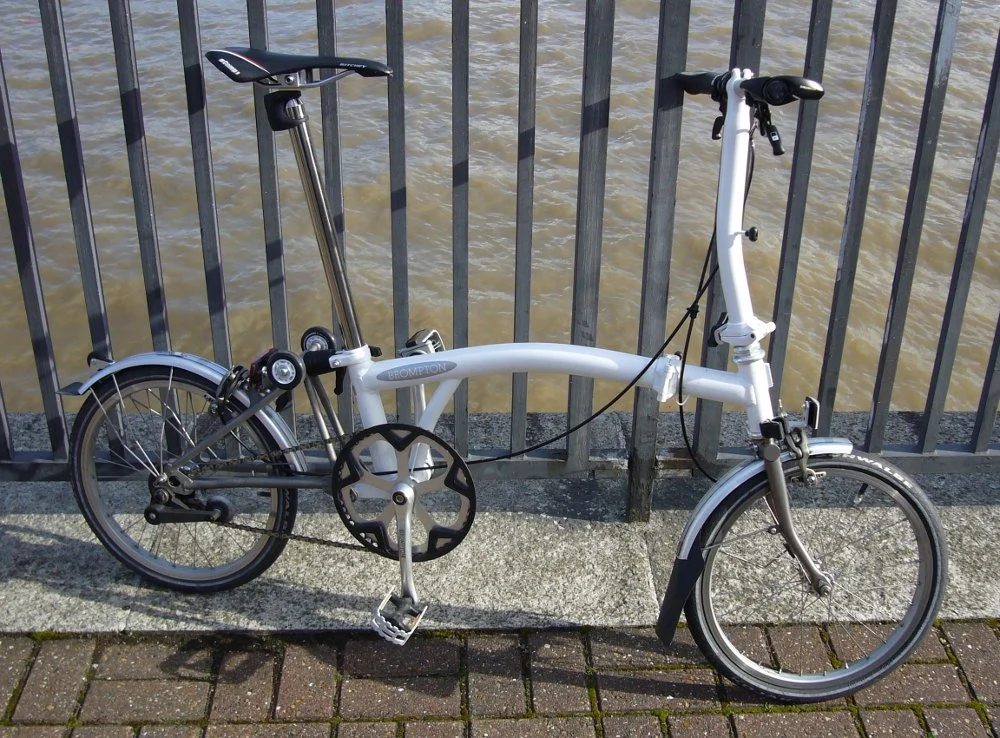 What I ordered was an S1L-X in white. That is:
S: S-type (i.e. flat) handlebars
1: Single speed (no gears)
L: Mudguards
X: Lightweight (titanium forks, rear triangle, alloy seatpost, etc.)
I also specified Schwalbe Kojak tyres—slick, lighter and, with lower rolling resistance, faster than the normal ones, and still reasonably puncture-resistant. (Note that slick tyres do not give less traction than ones with "tread": the pattern does not offer any advantage on paved roads; in fact, on such surfaces, a slick tyre has a greater contact area.) I also specified a firm elastomer for the rear suspension.
This gave me a bike of slightly under 9 kg.
It seems that ordering the lightweight model contributed to the speed of delivery: I'm told that Brompton had had some problems with the supply of titanium parts; on resolving these problems, they prioritised production of lightweight models to catch up. Mine simply happened to go into the system at exactly the right time.
The ride of the Brompton is very good. Despite having 16" wheels against my old Dahon's 20", it's more comfortable even on London's extravagantly rutted tracks. This could be due to the steel frame (as opposed to aluminium), the titanium forks, or the rear suspension arrangement, or some combination thereof. The result, though, is that it's pretty comfortable on bumpy roads.
The fold is amazing. Not only does the Brompton fold down really small, it does so with all the oily bits tidily on the inside. This makes it easier to take on a train or into a shop or restaurant. It's also quick to fold and unfold once you've got the knack: unfolding, in particular, can be done in three operations with the correct flourish.
Some public transport—the DLR, for one—requires that folding bikes be in a bag. A folded Brompton will fit easily inside one of the blue bags that Ikea sell at the checkouts for 80p or so.
I've made a few changes to my Brompton. Some for preference, and some to fix flaws.
I've replaced the rather soft stock saddle with the light, harder saddle I'd used on my Dahon. It may seem paradoxical to non-cyclists, but hard saddles can be more comfortable. Whereas a soft saddle deforms and presses all over, a hard saddle allows you to place your weight solely on your sitting bones, avoiding perineal trauma.
I've shortened the handlebars by about 25 mm on each end (this is quick and easy with a pipe cutter) to suit the width of my shoulders better.
I've replaced the plastic rollers on the back with children's inline skate wheels. These have proper bearings, allowing me to tow the folded bike by the handlebars, and don't rattle when I ride.
I've replaced the stock brake levers, which are wobbly, half plastic, and which don't retain their tension well. Instead, I'm using a pair of BMX levers, which have improved the situation. The performance of the front brake remains less than entirely satisfactory, however. The position of the S-type handlebars when folded means that the levers have to be installed almost vertically. This is a problem with both stock and replacement levers; I can't see any straightforward solution.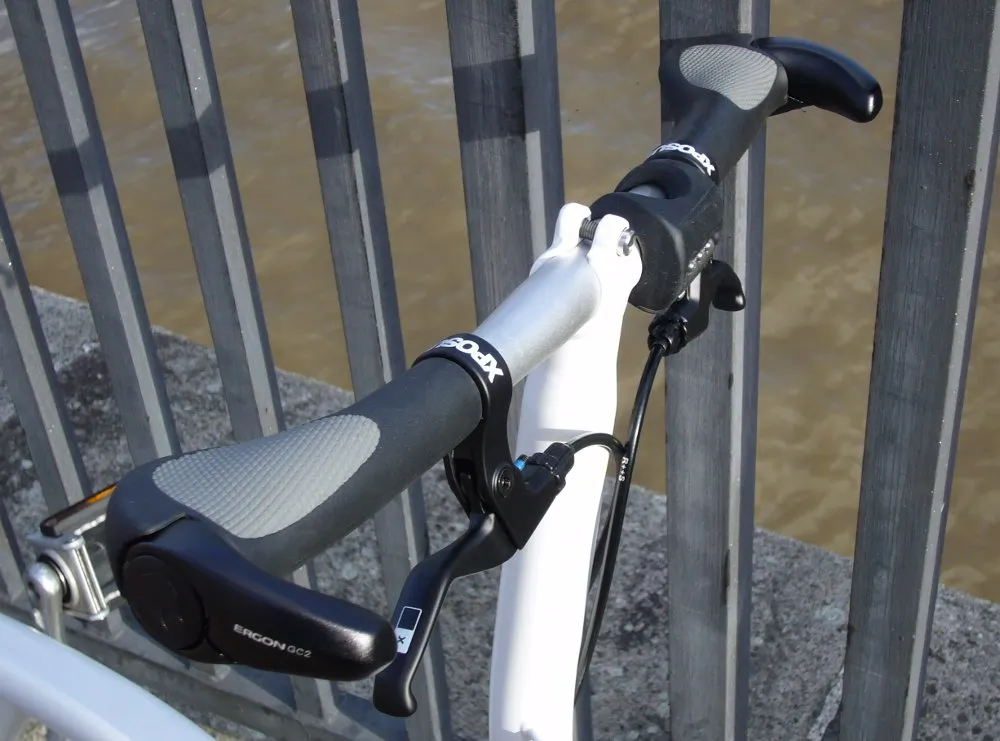 I've fitted Ergon GC2 grips to the handlebars. As well as being more comfortable, the stubby bar ends offer an alternative hand position, which is always welcome on long rides.
I don't think that the common complaint that Bromptons are overpriced is quite true: it's more that items mass-produced in the Far East are very cheap. Labour-intensive manufacture in a developed country will always cost more. Having said that, there are some annoyances: for the amount I paid, I'd hope for better brake levers, trundle wheels, and a better-engineered chainset than that swaged thing.
All told, however, I'm very satisfied with my Brompton. It did cost me a lot of money—and I spent a lot extra to shave a couple of kilograms off—but it's exactly what I want.
Finally, here's a handy tip for fellow Bromptonistas: It's easier to unfold quickly when you don't need to worry about the saddle height. A small piece of old inner tube around the bottom of the seatpost will stop the saddle at your own perfect setting: