What is the Dunwich Dynamo?
A turn-up-and-go challenging slightly-scary free-entry overnight on-tarmac just under 120 mile bicycle ride to the lovely lonely Suffolk sea at Dunwich.
It takes place in July each year on the Saturday nearest the full moon, which, this year, was last Saturday (24th).
I first heard of the Dunwich Dynamo a couple of years ago. I couldn't make it last year. This year, I decided to take part, bought myself a ticket for the coach/bicycle transportation back, and told everyone I was going to do it.
And thus I left London Fields around 20:00 on Saturday evening, and arrived at Dunwich beach just before 07:00 on Sunday morning.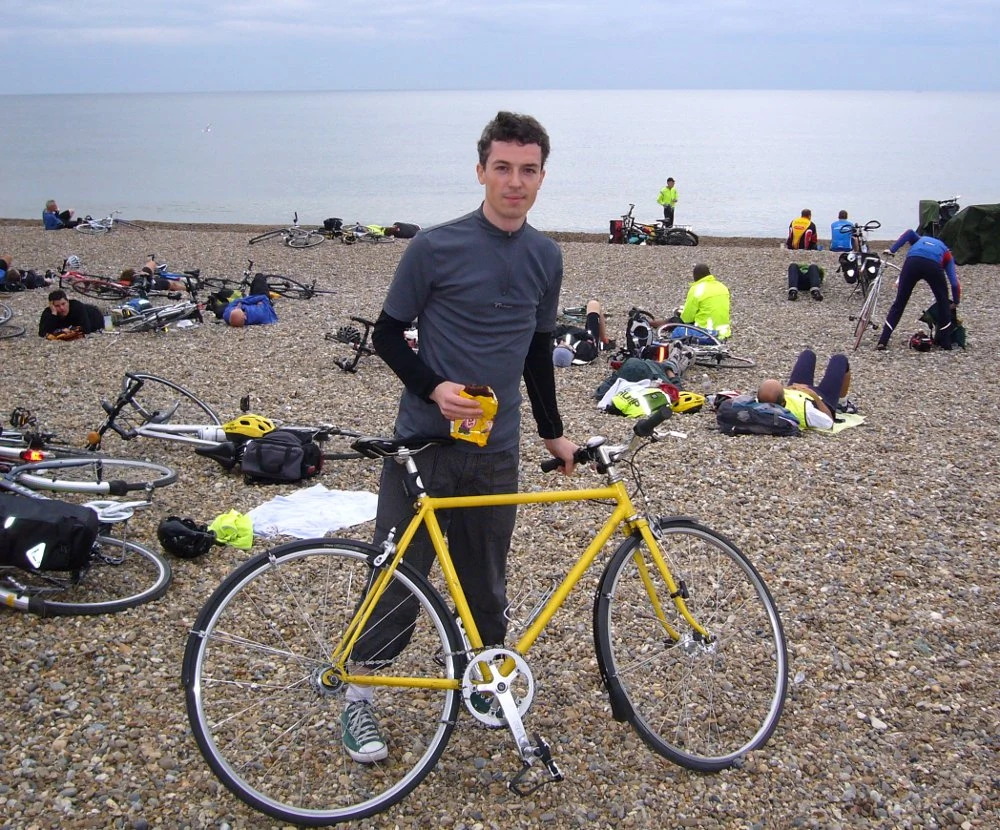 186 km travelled
11 hours start to finish
7 hours 55 minutes riding time
22.5 km/h average speed
48.5 km/h top speed
The sky was cloudy, but it didn't rain. It wasn't all that bad, really. Endurance is something that human beings have naturally evolved to be good at. For energy, we just need fuel and oxygen. Oxygen is readily available; for food, just keep eating, according to Velocio's maxims:
Eat before you're hungry, drink before you're thirsty.
I took a couple of loaves of Soreen with me, and nibbled a chunk every hour or so, along with some dextrose tablets and two bananas.
A little less than halfway to Dunwich, there was a feeding station at Sible Hedingham village hall, where I had a 12" hummus sandwich, a cup of tea, and an hour's break.
Around 04:30 (I think), as it was beginning to get light, the lane ahead was suddenly filled with parked cyclists. Someone had set up a small stall in their garden and was selling bacon sandwiches and cups of tea. As someone said, it was like an oasis in the desert. A bacon oasis.
The psychological benefits of a hot bacon sandwich and a cup of tea in the middle of Suffolk after you've been cycling all night cannot be overstated. It was wonderful.
At Dunwich, I pushed by bike onto the shingle, stripped to my shorts, and waded into the sea. It was comfortably mild, although whether that's due to seasonal effects or just the outflow of Sizewell up the coast, I don't know.
Speaking of shorts: yes. Apply something emollient (Savlon is a favourite) and wear some proper cycling shorts. I did, and after eight hours in the saddle, I was in no discomfort whatsoever. (I also wore a pair of thin baggy shorts over the top. I'm not that kind of cyclist.)
Lights were also essential. I had my regular flashing city lights, plus a head torch (very useful off the bike in the dark) and a seriously bright torch mounted on the handlebars. The torch only lasted an hour and a half on a set of batteries, but three sets were enough to get me through the dark part of the night.
I did the ride on a single speed bike (freewheel, not fixed), with a 74" gear. That was mostly fine. I didn't need to go any faster, but a lower gear would have been useful on a couple of uphill stretches. Suffolk is mostly flat, but it's still hillier than I remembered.
I tried to minimise the weight I carried. Next time, I'd take more clothing for the beach afterwards. I took a change of clothing, but I'd take more layers. There's not much shelter around, and it's either cold or baking in the sun. Or both. I'd take sunscreen, too. The part of my legs that was exposed to the sun for an hour or so wasn't as conditioned to the sun, and I've got some red shins today.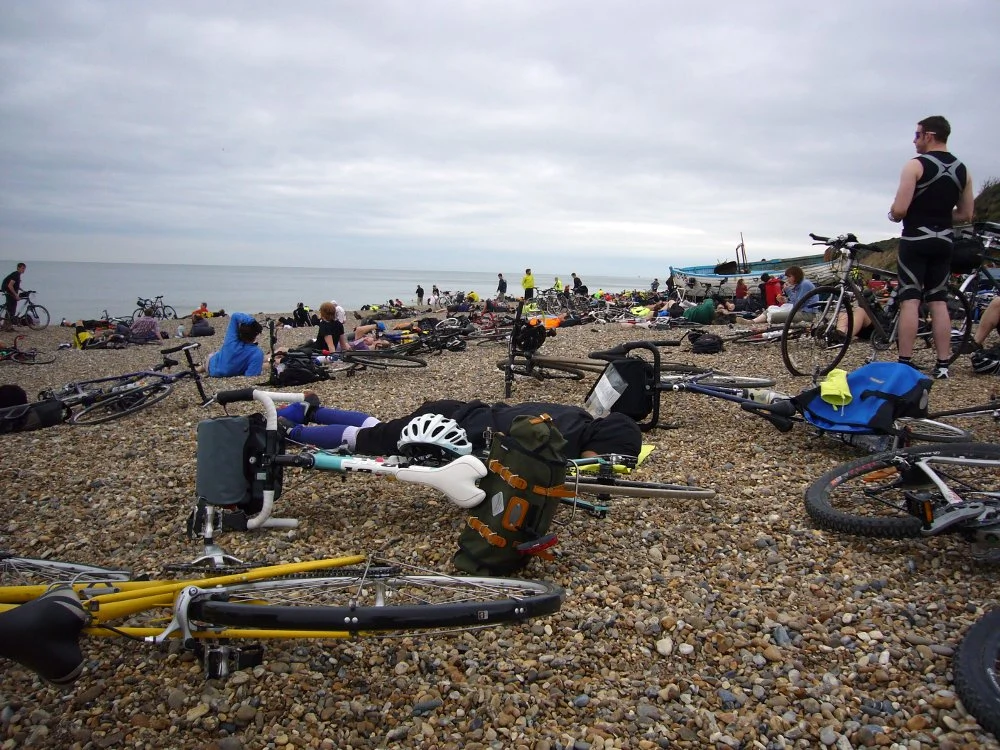 The coach back to London took about three hours. Driving is faster than cycling, but not by as much as you'd imagine. Riding to Dunwich has increased my sense of what can be achieved on two wheels under human power alone.