Last round on the Underground
If nothing else, last night showed that it's possible to raise an army via Facebook. Boris has banned drinking on the Tube from 1st June, and thousands of people turned up for the last ever Circle Line party—well, the last with alcohol, anyway.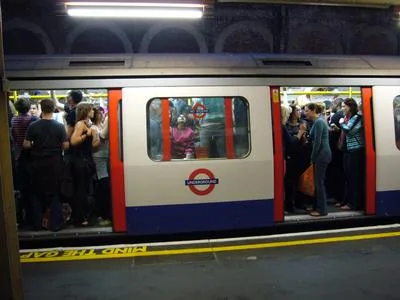 As advertised by BBC News, the party was supposed to start at Liverpool Street at nine o'clock, but so many people turned up that the police closed off access to the platforms. I was all right, though: I got on one stop before, at Moorgate, where the train was already full of cheerful revellers with drinks in hand.
As the train arrived at each stop, people on the train whooped and banged, and invited in a new intake of partygoers on the platform. People rushed out and back into different carriages. The atmosphere was cordial and playful—even the colourful sing-songs (such as 'Boris, you wanker' to the tune of O come, all ye faithful) seemed to be in good humour rather than being menacing. It was crowded like rush hour, but without the rush hour glumness.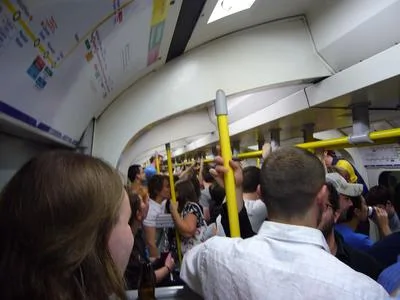 After a while, though, I detected a change in mood around me. Some people grew more drunk, and starting banging the roof much harder than simple percussion demanded. When the train stopped for longer than expected, they seemed angry. To be fair, I didn't see any violence, but if it occurred, I didn't want to be stuck in a packed carriage. So I left the train at the next station and made my way back home, happy to have experienced such a phenomenon—one unlikely to be repeated—but not really feeling the need to see it through to the bitter end.
According to the Press Association:
[F]our train drivers and three other London Underground staff were assaulted, one police vehicle was damaged and two officers assaulted and another injured. A spokesman for British Transport Police said 17 people were arrested.
This is unacceptable, even though it was, perhaps, inevitable with so many attending. However, thousands of people just had a good time, didn't assault anyone, didn't damage anything, and went home with nothing more than a hangover to wake up to.
Whether the event showed up the idiocy of blanket bans or demonstrated the public menace of drinking on public transport is likely to depend on whom you ask.
Whatever, I'm glad I was there to see it.