Week 45: Going out and staying in
The electronic radiator valves I ordered arrived and I fitted and programmed them. Although all our radiators were fitted with thermostatic valves, they were the kind that give you just an arbitrary number from 0 to 5. I wanted a little more control so that we could avoid heating the bedroom in the daytime, and, conversely, so that I could keep the office warm, and so that I could use actual temperatures instead of indeterminate units.
Most of the options on the market now are quite expensive, and require a proprietary base station and some kind of cloud service to work. I don't need, want, or trust that, but these ones are simple, self-contained, and the only downside is that I have to walk around and change the clock twice a year.
I couldn't find a UK seller that had them in stock, but I saved a bit by ordering them from Conrad in Germany. VAT was handled at checkout, so there weren't any other fees beyond €9.99 for delivery. In total, they cost under £18 each.
They sit there and moderate the temperature with an occasional soft whir as the motor opens or closes the valve and they do the job well. There's still a bit of tweaking required, as our house thermostat reads high, but it's already an improvement.
But I am easily pleased by the novelty of central heating after a decade of living with storage heaters, a form of heating that costs a lot and gives no control over temperature. Never again.
I went out three evenings last week, probably the most in over a year.
On Tuesday, I went to practise speaking Irish over a few beers, at an event organised for the 125th anniversary of the first meeting of Conradh na Gaeilge i Londain.
On Thursday, I walked up to Shoreditch to see my friend's band Mount Forel play. They were supported by Cosmorat, who put on a really storming live performance.
On Friday, I walked over to Waterloo, where L— and I had a pizza before a gig at IKLECTIK, a venue that's new to me, though it seems to have been there since 2014. I wish I'd known about it before, because they put on some really interesting events. The lineup was Loula Yorke + Iggor Cavalera + Anam Cara:
Like an orchestral conductor, Anam Cara will explore immersive ways to organise and accompany Loula Yorke and Iggor Cavalera's acts using spatial interventions and prompts within IKLECTIK. Anam Cara will be creating a series of projected video pieces and sound compositions which will create an umbrella structure for the sequence of performances of the event.
Yes, it's that Iggor Cavalera who used to play drums for Sepultura.
He played a couple of sets of drone and percussion, accompanied by sound samples discussing trepanation, while some deranged computer dreams (GAN-generated, I assume) were projected onto the walls.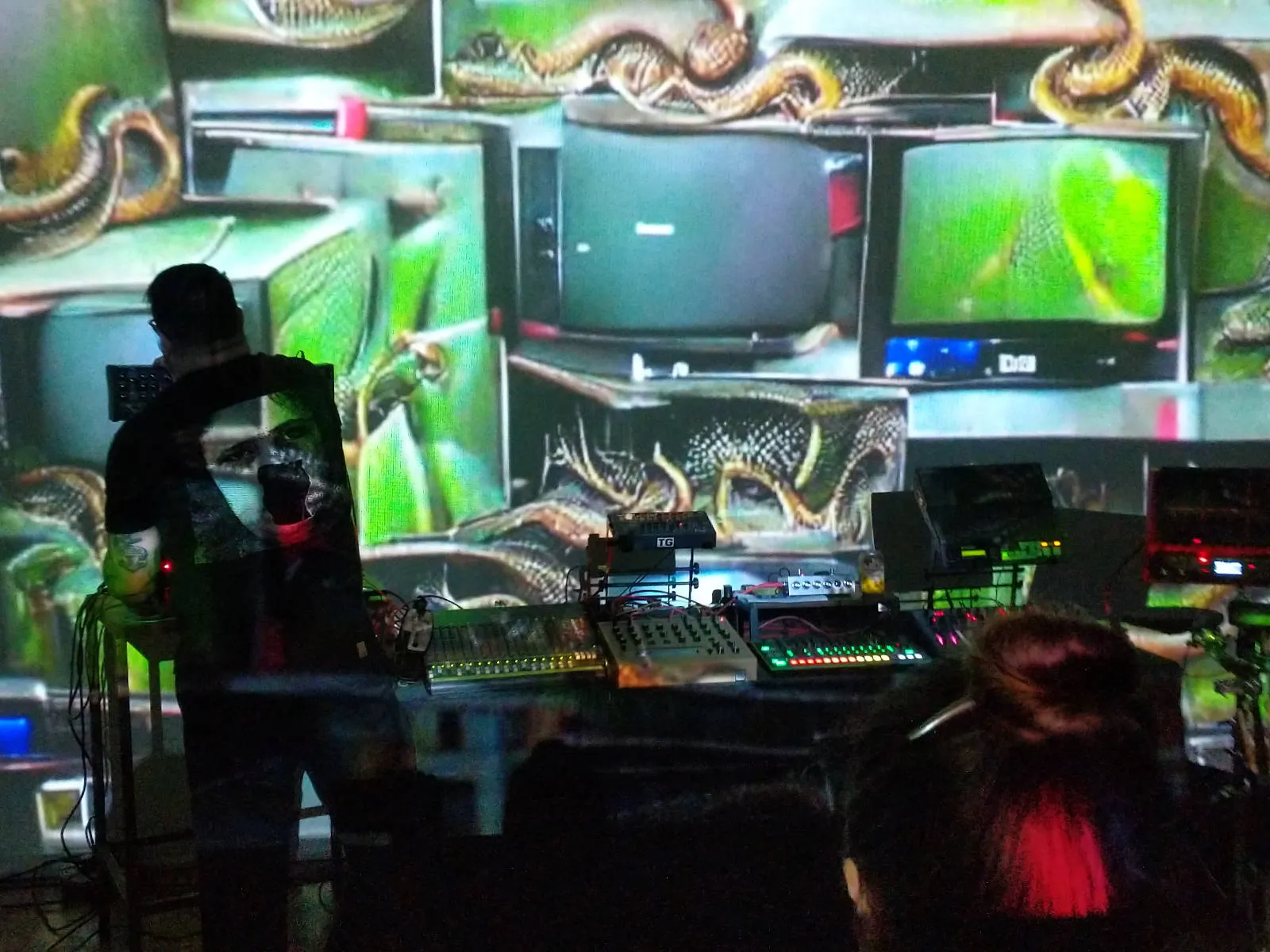 Loula Yorke's set was more soothing, and included birdsong and audio from cookery programmes.
I loved it, and it's a really nice venue, cosy and intimate.
After all that going out, I needed some time in, and I spent most of the weekend at home, building a couple of Eurorack modules.
The Beepboop Lo-fi "TAPE" Sampler was quick and easy, once I established that the resistor values and locations in the supplied components were correct, and that the build instructions I had been looking at online were out of date.
The Tesseract Sweet Sixteen required a lot of lining up and soldering of 34 sockets and 16 faders. Because the faders are a lower than the other components, you can't solder them against the board and screw them to the front panel. My solution was to design and 3D print a spacer so that I could mount the faders flat against the front, anchor them with the screws, and still have enough leg poking through the board to solder. It worked really well.
I had a go at Disquiet Junto 0515 but I haven't really got anything I'm happy with yet.
Our internet connection has slowed down a lot, but as we're with a competent high quality ISP I was able to run a line test via the control panel, determine that there's a fault, and an engineer has been scheduled.
Still, one more reason not to have heating that relies on the internet.