I think the past week has been more eventful than the whole of 2021 up to now.
We exchanged contracts on the house. If you don't know what that means – and I didn't until a few weeks ago – that means that we have paid a deposit and contracted to buy the house. The mortage provider then transfers the full amount to the solicitors, the purchase proper (a.k.a. completion) happens next week, and we get keys and a house.
It all happened very fast: last week, there seemed to be interminable wrangling over an indemnity policy; this week, the vendors asked to move the completion date sooner and offered to pay for the policy if we could exchange this week. I don't understand people sometimes.
Our current flat is a periodic tenancy, which means that we can leave with at least a month's notice, rounded up to end before the next rent cycle. Conveniently for us, that cycle ends on the day we complete, so we don't have to pay a day's rent more than the necessary one month, and we get a month to sort out anything we want done before we move in. I'm sure that won't be enough for everything, but it will help.
I went for dinner, inside, with friends, some of whom I hadn't seen since early 2020, and ate and drank and talked. I've missed it so much.
I went to my first live gig of 2021, Mount Forel's much-postponed album launch. It was a bit different: capacity was reduced, so they played two gigs back-to-back to different audiences, and you had to sit in a chair the whole time. But the central point remains, that I listened to live music being played by people in the same room, and it was great.
Afterwards, we ate pizza in a converted railway arch nearby, accompanied by a nostalgic playlist of 90's R&B. Was ever a more perfect day had? Not in 2021, so far, anyway.
Ar ámharaí an tsaoil, bhí an aimsir go breá Dé Sathairn. Chuaigh mé ar rothar chuig Pop-up Gaeltacht i bPáirc Hyde. Rinne mé dearmad ar a lán focail, ach ní dhearna mé dearmad ar an sciath ghréine! Bhí sé deas cairde a fheiceáil san fíorshaol agus Gaeilge a labhairt san aer úr, agus muid ag ól cúpla canna.
The vegan sushi at 123V is exceptional. They've performed some molecular gastronomy wizardry and managed to produce a food that has not only the appearance of raw fish, but the texture and mouthfeel as well. It tastes good, too.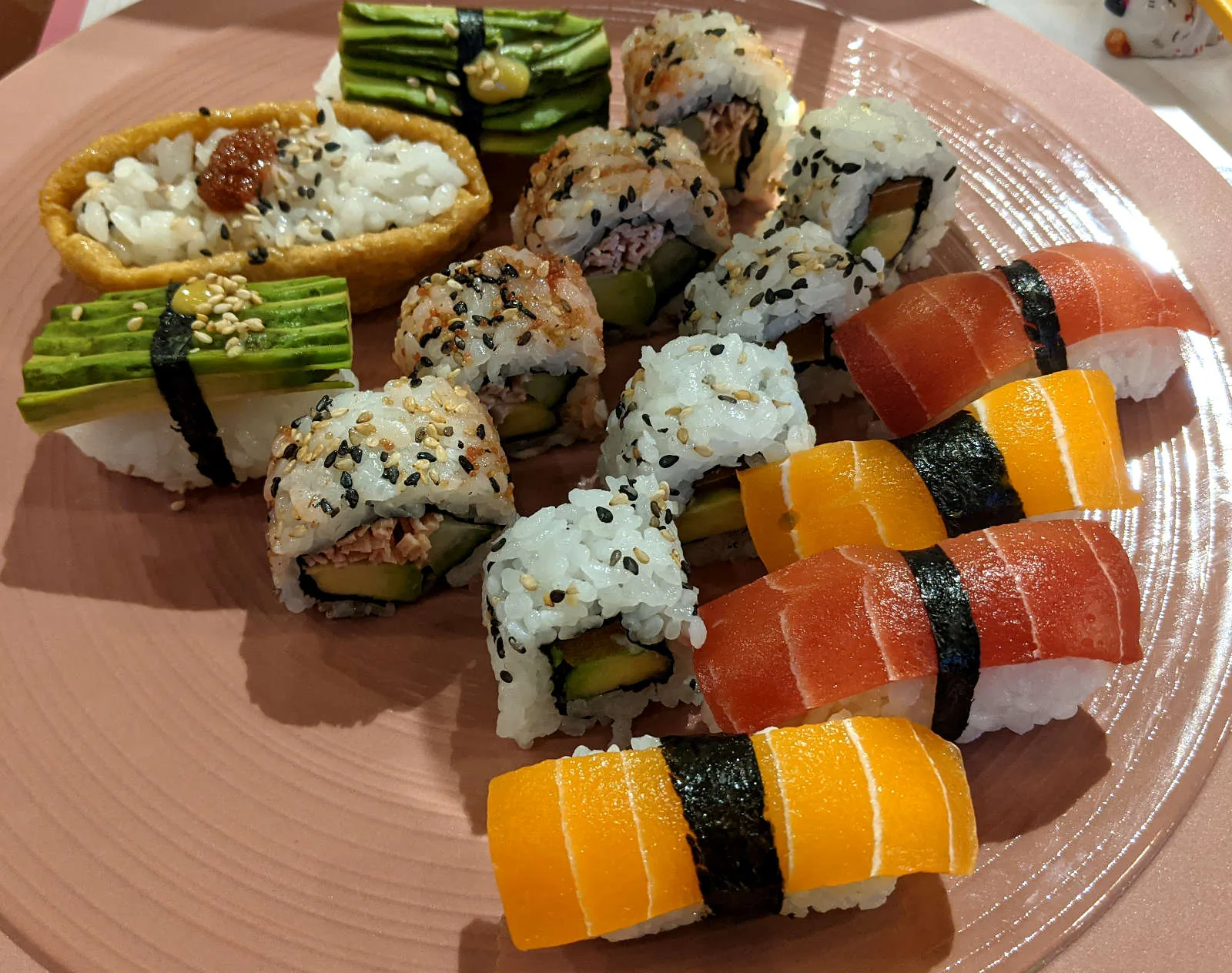 Several weeks ago, I managed to get member tickets to the Yayoi Kusama mirror rooms at Tate Modern in the few minutes before they were all snapped up, and today was the day I managed to get them for.
It's spectacular, although it is just two small rooms, which makes it feel a bit anticlimactic after you've seen it all in under ten minutes. The only upside to all the covid restrictions is that you get plenty of time and space to yourself. If you can get a ticket, of course.
I'm looking forward to the day when members can just swan in whenever we like once again, without having to plan excursions weeks in advance.
My reskinned shamisen is on its way back across the Atlantic.