I fell off my bike while cycling to work yesterday, and spent the day in hospital. Bugger.
What I think happened is that I lost traction on my front wheel while turning left into a corner, and came to a halt with my cheek on the ground. What happened after that is very vague: I was concussed, and lost some of my memory. What I do remember is that I tried to walk to Guy's Hospital, which I knew to be a few streets away, but I got lost on the way and was helped by a man named Mohammed, who walked me the rest of the way. I locked my bike up outside the hospital. I even remembered to take off my lights!
After that, I'm not sure what happened, but I ended up being transferred to Accident & Emergency at St Thomas' Hospital. After several X-rays and CT scans, they determined that there was no permanent damage, and kept me in for observation. By late afternoon, I had perked up, and, since I had someone to accompany me, I was allowed to go home about 22:00.
We took a taxi, stopping off at Guy's on the way to pick up my bike, which was all right, Jack!
I look pretty bad: my face is abraded and swollen, but I don't think there's any serious damage. And I feel fine. I have to take care over the next six weeks or so, avoid alcohol, and take it easy, but I think I'll be OK.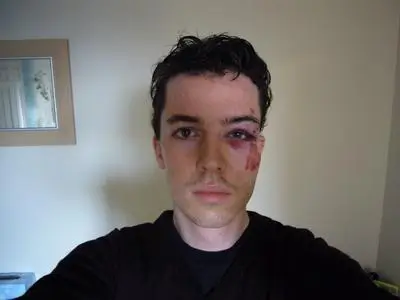 My right little finger appeared to be fractured, but the X-rays suggest that it's not, and is merely extravagantly bruised: