I was idly wandering around the guitar shops in and around Denmark Street last weekend, looking for a new guitar. (I'm on holiday this week, and since I wasn't actually travelling anywhere, I felt justified in splashing out). I wanted something with two humbuckers and a fixed bridge, something that could handle some blues and jazz and that didn't look totally metal. (Pointy guitars aren't my style.) I tried a couple of archtops, a Yamaha and an Ibanez, in the £250-£300 price range, but they failed to inspire me.
In one shop, I spotted a few Les Paul copies from the Japanese company Tokai. Tokai has a good reputation: their Japanese-manufactured instruments are very highly regarded, and some even consider them superior to the originals they imitate. I asked the proprietor in passing whether these were any good, and he was very enthusiastic, so I ended up trying out a Korean-made Tokai 'Love Rock' (I assume that they chose the bizarre name for its visual resemblance to 'Les Paul').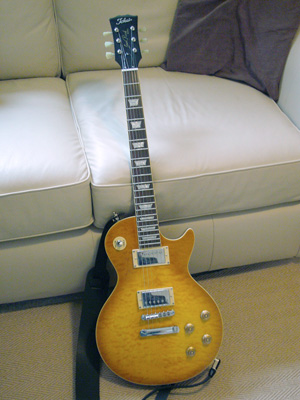 (There are probably two classic solid-body electric guitars, the Fender Stratocaster and the Gibson Les Paul. Although the Stratocaster is arguably better known among non-players, I've always preferred the Les Paul. If the Strat is a couple of planks bolted together by someone who couldn't play, the Les Paul is a real instrument from a musical lineage, contoured and crafted. For me, things like the deep neck angle, wider nut, and shorter scale length make it easier to play. It's also very versatile, being as suited to warm jazz as it is to screaming hard rock. However, genuine Les Pauls are rather expensive!)
I was very impressed by the playability, sound, and general finish of the Love Rock. To a certain extent, you get what you pay for in these cheaper Korean models: the body is alder, not mahogany, and the figured top is a sycamore veneer. (Given that mahogany is environmentally highly questionable, that's not necessarily a bad thing from my point of view.)
I was very tempted by it at £299, but decided to let the decision settle first. After wandering around some other shops and trying a few more instruments, I was certain.
I bought it, brought it home, and I've been playing it extensively since. With some fresh strings on it (10-46 in nickel) and the bridge and intonation adjusted to perfection, I couldn't be happier with my purchase. The vintage-style tuners stay in tune, the PAF-style pickups have a lovely tone, it plays very well, and it looks gorgeous. The neck pickup does a great clean jazzy tone, and the bridge wails through heavy distortion in a most gratifying manner.
There was only one other thing I had to do: fit strap locks. This kind of guitar is particularly prone to accidental strap detachment due to the position of the upper strap button, and I didn't want my new guitar crashing to the floor! I bought some Schaller strap locks to forestall that, but I had a small problem in that the original buttons were fitted with fatter screws than those supplied with the strap locks. I couldn't use the old screws, but the new screws wouldn't bind in the larger holes. As I wondered what to do, I remembered an old goods palette that had been left over by the bins in my block, and headed out armed with a sharp knife to purloin some wood. I shaved off a few chunks and glued and pressed them into the screw holes. When the glue was dry, I carefully shaved the wood flush and drilled new holes. Problem solved.