This unusual piece of graffiti has been on a wall in Amerika-mura, downtown Osaka, for years, but it's the first time I've got around to photographing it: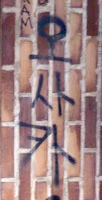 If you don't read Japanese, you're probably thinking, 'so what?' The thing is, though, it isn't Japanese.
It's written in Korean, but it says 'Osaka'. I'm really intrigued by how it came to be there: who wrote it, and why?