Review: The Bug digital radio
In order to test out the new review aggregation facilities of Reevoo, I've decided to write my own review. It's also going to test the parser a bit: it's long, and I've modified the markup a little.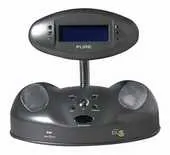 0.2
product
Pure The Bug DAB Radio with Record
I was given a Bug DAB digital radio for Christmas, and I can honestly say that it's one of the best presents I've ever received. The looks are—to put it politely—unconventional, but the functionality is superb.
I'm an avid radio listener, and really appreciate the extra channels available on DAB. The sound quality is definitely better than AM, especially in the evening when AM is particularly susceptible to interference. Whether DAB sounds better than FM is somewhat subjective: the artifacts of the MP2 compression used by DAB are sometimes audible, but the reception is far more robust. Those are features of the format itself, though, and not specific to this product.
The killer feature of the Bug is timed recording. Just like on a VCR, you can set up the station, time, and duration, and the device records it for you. This requires the additional purchase of an SD card, but I'm glad that they don't include one with the product: the speed at which capacities increase and prices decrease is so fast that it's a much better deal to pick one up separately. The timed recording can handle things like weekdays, weekends, one-off, and weekly repeats, and covers almost every permutation I've needed. There are six timers; I haven't found that to be a limitation so far.
Recordings are saved in the DAB-native MP2 format, and can easily be transferred from the SD card to a computer with a card reader (there's a USB port on the Bug itself that exposes the card as a Mass Storage Device, but that only provides USB 1 speeds). It's easy to play MP2s in iTunes, which can also convert them to MP3 files for my iPod.
There are some thoughtful features such as the ability to set the channel and volume for radio alarms in the morning; in my case, that's something loud to wake me up. There are quick-access buttons for tuning to favourite stations. You can pause and rewind through live radio.
It's not perfect, though. What could be improved? Well, for a start, an off button would be nice. The Bug has a four-way clicker to handle most of its functions, and turning the radio off requires a long-duration press on the clicker. In practice, it's tricky to do without rocking it one way or another. Curiously, there's a dedicated button for automatic rescanning of available stations, an operation that is rarely needed in a radio that's tethered to one location by its power supply.
The screen is slightly old technology; something with a higher resolution and refresh rate would make it easier to read the station text data and to navigate through stored tracks.
Compared to the rich options for timed recording, the alarm facility is limited. There are only two alarms; it would however be nice to be able to set different times for Saturday and Sunday.
The firmware can—and indeed should—be upgraded to provide some important bug fixes and functionality improvements. However, the firmware upload utility is only available for Windows (ugh). It's also annoying that the device comes with firmware that's more than a year old out of the box.
The sound quality when listening via the headphone socket is noisy and poor. The sound quality through the speakers is fine, though, so this seems to be a shortcoming of the headphone output circuitry alone.
The Bug stands alone among DAB radios, as far as I know, in providing comprehensive recording facilities. It sets a high standard in features and functionality, but has a few annoying wrinkles. It's also a bit bulky and peculiar-looking. It's nonetheless an excellent product: if you want a recording DAB radio, buy it.
Rating
9/10 by Paul Battley on Feb 07, 2006