The journey across went even worse than I had expected. In fact, I was quite happy sitting there in my own world (no, it wasn't me driving) listening to an audio book, until something roused me.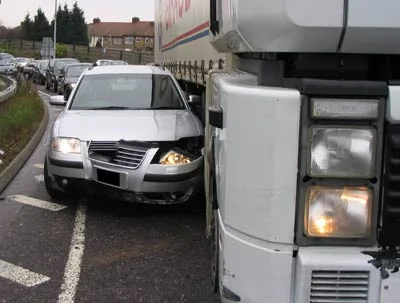 Fortunately, the accident wasn't as bad as that photo makes it look. The only damage was to the bumper, wing, headlamp assembly and the screenwash bottle. Late afternoon on December 24th is not the best time of year to have an accident, though, with everyone on holiday.
The crunch happened just north of London, not far from our destination, and after a friendly recovery truck driver strapped the front back together with cable ties, we were able to limp on for the last quarter of an hour.
Unfortunately, the bad luck didn't finish there: while we were all celebrating Christmas, my brother's house was burgled.
My journey back to Brussels on the Eurostar, by contrast, went very smoothly. The first class carriage I was in was almost deserted—there were six other passengers, I think—and wonderfully quiet. The seats are configured 2-1 across (standard class is 2-2), making them very spacious. I was even able to move from my single seat to a 1+1 table in the middle of the carriage, giving me yet more room.
The food and drink was reasonable, too. It was a bit better than typical airline fare, and after an aperitif and accompanied by a litte quarter-sized bottle of wine, I was satisfied. I'm not sure whether it's worth paying twice as much for a two and a half hour journey for a bigger seat and a meal, but even though my arm was forced by their pricing structure, I can't complain. It was very convenient considering that I didn't get home until after 11pm.
Perhaps the best thing about first class is entirely psychological. It just makes you feel a bit special, and we all need that sometimes. I know I did, after sleeping on the floor for the past four days.