The person who was coordinating the seminar yesterday said that I looked like I was going to die! I think I must have been tired, because I fell asleep at 7pm, woke up at midnight and took off my clothes that I was just sleeping in, and went back to sleep from 3am until 10am.
After my sleep marathon, I felt pretty good today. My toaster oven, which I use for cooking quite a lot, stopped working last week, right in the middle of toasting a couple of slices of bread. Maybe the abuse I've put it through, roasting chicken and other spattering greasy foods in there, played a contributing factor. However, it came with a one year warranty, so I dragged it back to the shop for repair. Unfortunately, it's going to take ten days or so, so I'm going to be without it for a while.
I have been planning to buy a digital camera for a while, and I've been looking out for good deals on something with 3 megapixel resolution and a sensible media format (preferably Compact Flash, failing that Smart Media, but definitely not Sony Memory Sticks). Today, wandering around after dropping off my toaster oven, I found a really good deal on a very capable camera.
The camera was a 4 megapixel Canon PowerShot S40 with an extra 128MB CF card thrown in for free. It's secondhand, although I think that it must have been a display model, because the boxed parts were as new. Specifically, the manufacturer's warranty card that all Japanese retailers religiously stamp was unmarked, so it was either a display model or stolen! It's also a relatively new model.
The metal body is scratched and dented a little on one corner, but the optical parts are fine, and it works perfectly, so it seems fairly rugged. It was also very cheap—I couldn't have bought a new 2 megapixel camera for any less, and I'd have had to pay for a reasonable capacity memory card in any case. The manufacturers tend to supply the smallest size of card they can find so that the camera works out of the box, even if it is only for a handful of images at psychedelic compression ratios.
Perhaps because of my toaster experiences, I paid for a three year warranty. Admittedly, I probably won't be in the country in three years' time, and I'm sure that I'll have upgraded to something smaller, lighter, faster and even better by then. However, there was no manufacturer's warranty as it wasn't new, and the shop was only offering one month's cover as standard, which was a little too short. However, unlike certain unscrupulous British retailers, they weren't incessantly pimping their extended warranty; it was only when I enquired about cover that they offered it to me. Also unlike their British counterparts, the warranty was very cheap (about 1/5 the price, in fact).
Although there is a cable for USB connection, the quickest way on my laptop is just to throw the memory card into the PC card slot using an adapter, where it turns up as a hard disk containing JPEG images. Compact Flash and PCMCIA seem to be almost identical interfaces in everything apart from size, and the adapters cost less than a glass of beer. As it happens, I already have an adapter for my wireless internet card, so it's very easy.
I haven't taken any particularly interesting pictures yet, but here's a picture of my bedroom, which is slightly unusual. Actually, it's a sort of loft in my flat, but I moved my bed up there since the weather got cold. Hot air rises, according to some basic laws of physics, so sleeping on the floor wasn't very pleasant. Up in the loft, it's very cosy. Yes, it really is that low—about 1m from floor to ceiling—but it's not as bad as it sounds! There is a window (you can see the sunset in the photo) and lighting, and as my bed is only a futon, it takes up very little of the available height.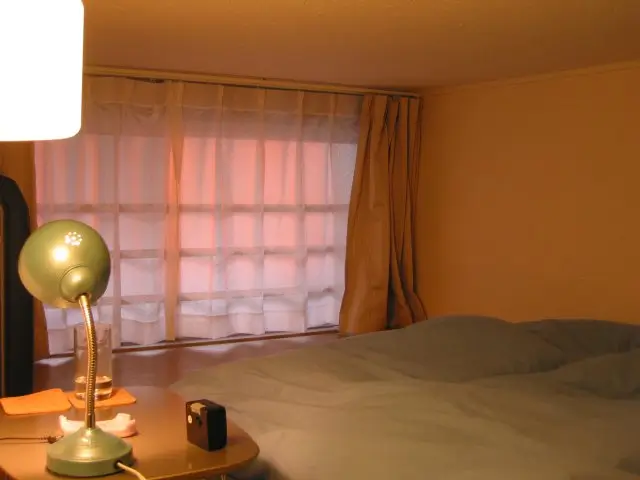 This photo shows how small my kitchen is. There is no worktop as such, so I have to improvise with an appropriately-sized board. It's quite tricky to prepare several things at once. Tonight's dinner was a stir fry, as you can see. Chicken, onion, pak choi and ginger, to which I added a chili and garlic paste. I'm probably going to stink tomorrow. Note the low tech soap dish—it's a tray from a pack of kimchi with a hole melted into one corner for the water to run off into the sink.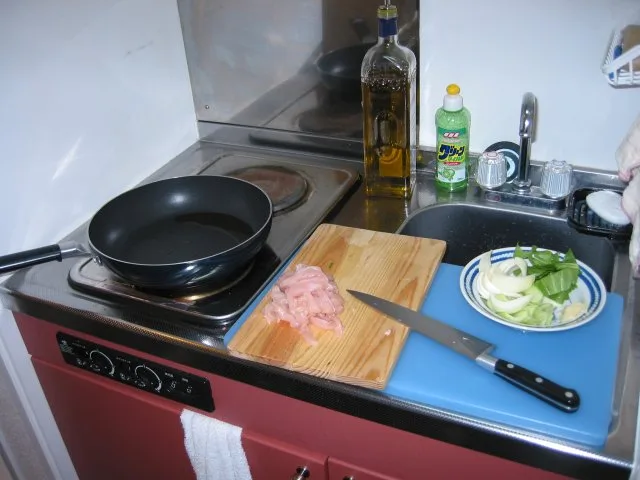 Finally, a picture of myself, taken without flash in the corner of my room.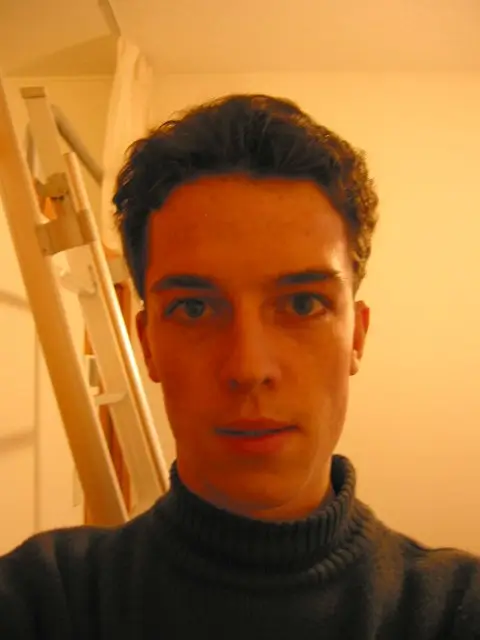 I've resized all these images down from the original resolution to reduce bandwidth. I'll try to take some more interesting pictures next time!