Manifesto for Greater East Asian Co-operation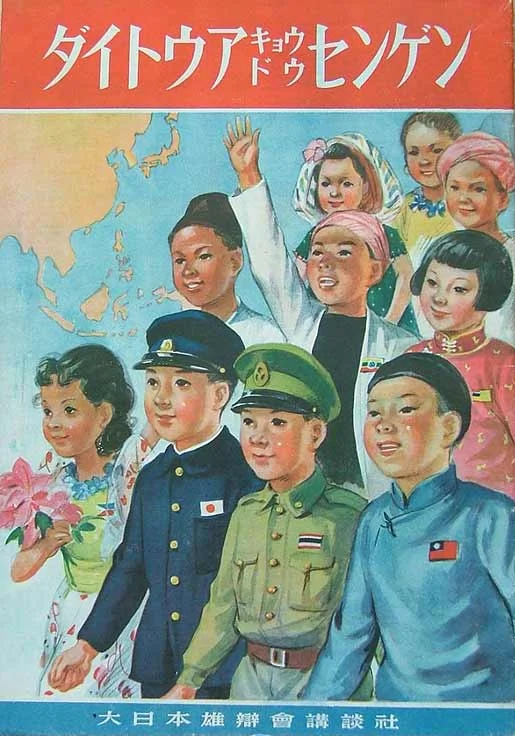 Preface
The original images are from 2bankok.com, where they are presented as scanned images with some annotation. I thought that a translation into English would be informative, so I took it upon myself to do that.
The original is obviously aimed at children, judging by the small number of kanji it uses. From my point of view, that actually made it harder to translate: the pre-war spelling—especially of Chinese loan-words—is markedly different to the modern orthography. I'm also unsure of which of several possible homonyms were being used in some of the titles, so I have translated those rather less accurately than the rest of the text. The sentences, however, are very short and simple, and I believe that my translation of the text is pretty accurate.
Before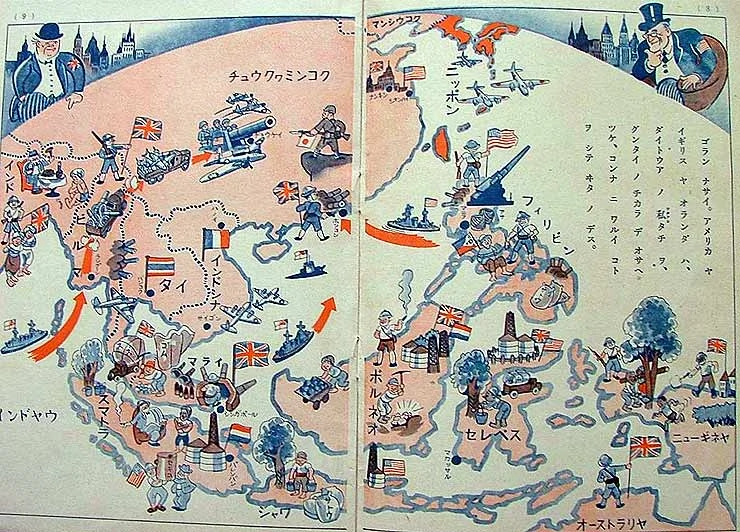 Look! Using their military might, America, Britain and the Netherlands have done all these bad things to us.
After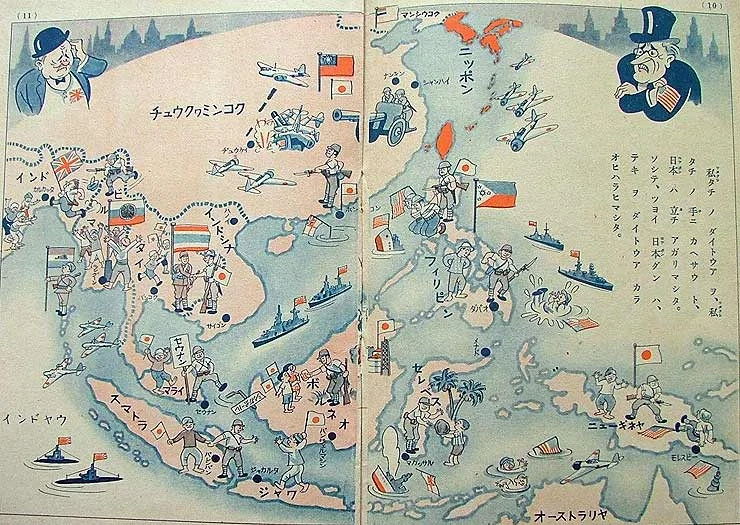 Japan has woken up, and returned our East Asia into our own hands. Japan's strong military has driven away our enemies.
Independence and Harmony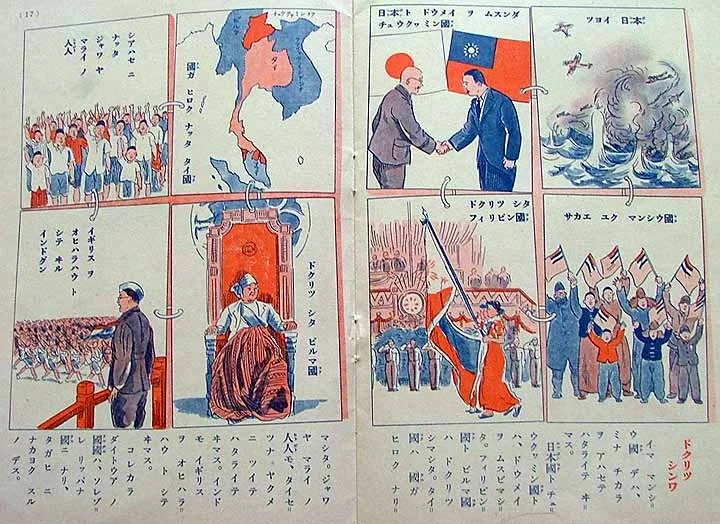 Right now, in Manchuria, all the people are combining their strength and working together.

Japan and the Republic of China have formed an alliance. The Philippines and Burma have attained independence. Thailand has grown larger. The Javanese and Malays, too, are working on important business. India is driving away the British.

Next, the countries of East Asia will form a union and become a great power, friendly to one another.
Captions
The image captions are listed top-to-bottom, right-to-left:
A strong Japan.
A flourishing Manchuria.
A Republic of China in alliance with Japan.
An independent Philippines.
An expanded Thailand.
An independent Burma.
Happy Javanese and Malays.
The Indian army, chasing away the British.
Our Commander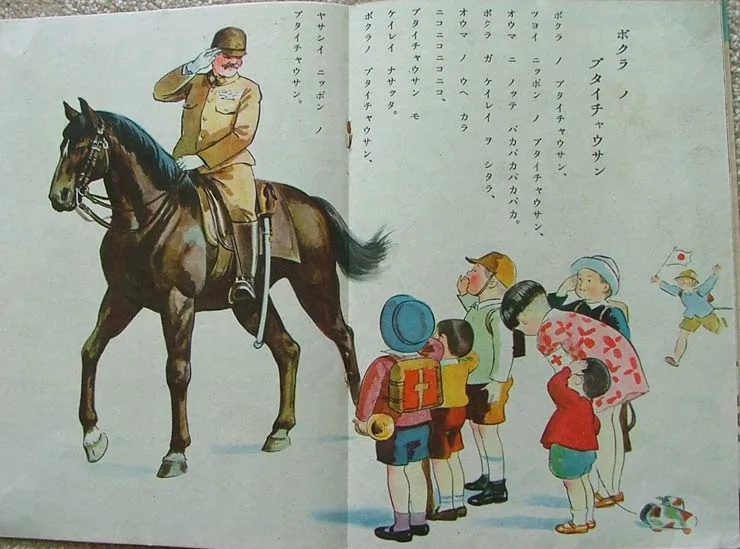 Our Commander is a strong Japanese Commander.

He rides a horse, clip-clop clip-clop.

When we saluted him, he smiled from atop the horse, and saluted back to us.

Our Commander is a friendly Japanese Commander.
New Hope for the World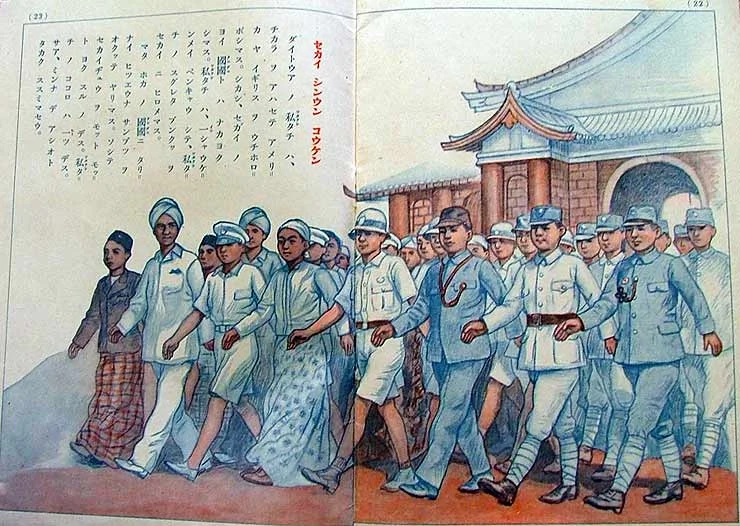 We people of East Asia have destroyed America and Britain with our combined strength. However, we are friendly with the good countries of the world. We study together and spread our superior culture over the world.

We will give other countries the products they need. We will make the world a much, much better place. We are of one heart. Let's walk together into the future, with our footsteps ringing out.
Sharing Culture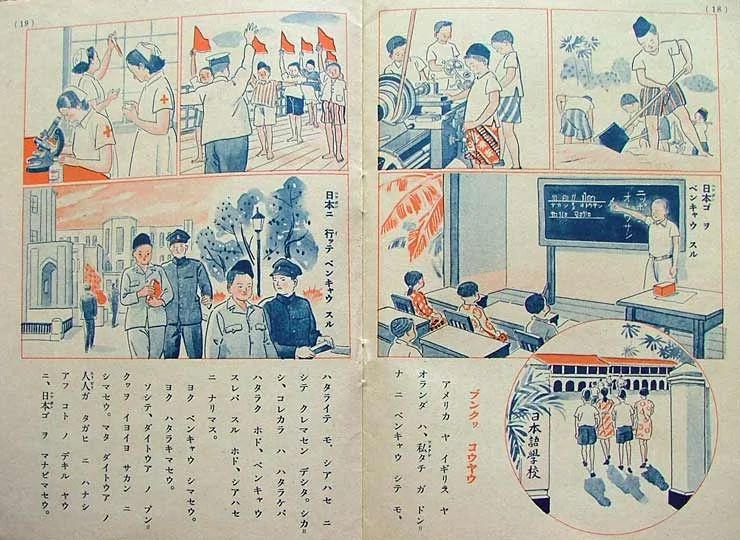 No matter how much we studied or worked, America, Britain, and the Netherlands never gave us happiness. However, from now on, our study and work will bring us happiness proportional to our efforts.

Let's study hard. Let's work hard. Let's make East Asian culture flourish. And, so that all the people of East Asia can speak together, let's learn Japanese.
Captions
Numbered right-to-left:
Studying Japanese
Going to Japan to study
The sign on the gate in the circular picture says: "Japanese Language School".
Co-existence and Co-prosperity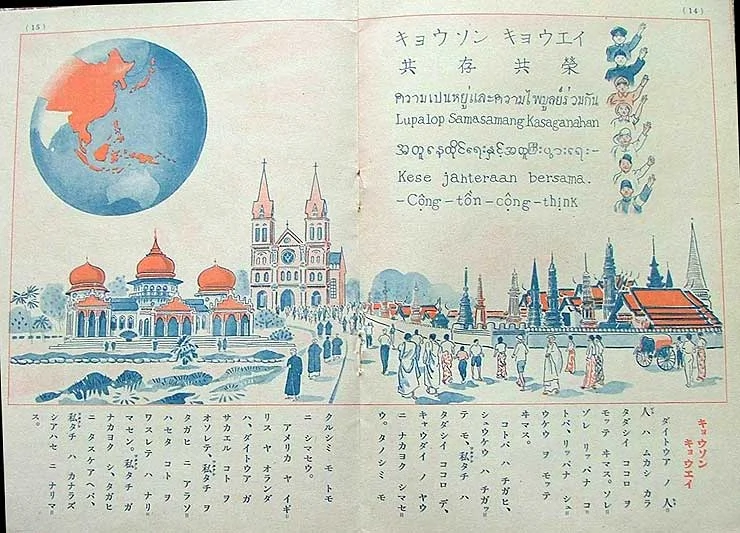 East Asian people have always had a good attitude. There are many wonderful languages and religions.

Even with our differing languages and religions, let's adopt a good attitude and be friendly like brothers. In happy times and sad, let's be friends.

America, Britain, and the Netherlands were scared of East Asian prosperity; we must not forget this undeniable fact. If we have good relations and help each other, we shall definitely be happy.