Week 134: Tory death cult
I went to a café for lunch on Friday and the barista complimented me on my jacket. "It fits really well!" she said. I had to tell her that I'd picked it up for £5 in a second-hand shop in Deptford. I usually have a terrible time finding clothes to fit me. Perhaps you don't have to spend a fortune to look sharp, but you do need a certain amount of luck.
L— hosted a large party in the park near our house on Saturday afternoon. Even though I wasn't really involved in the preparation, I still found the whole thing pretty stressful and disruptive. That's not to say that I didn't have a good time once there, and the weather mostly co-operated, luckily. Rain would have been a disaster.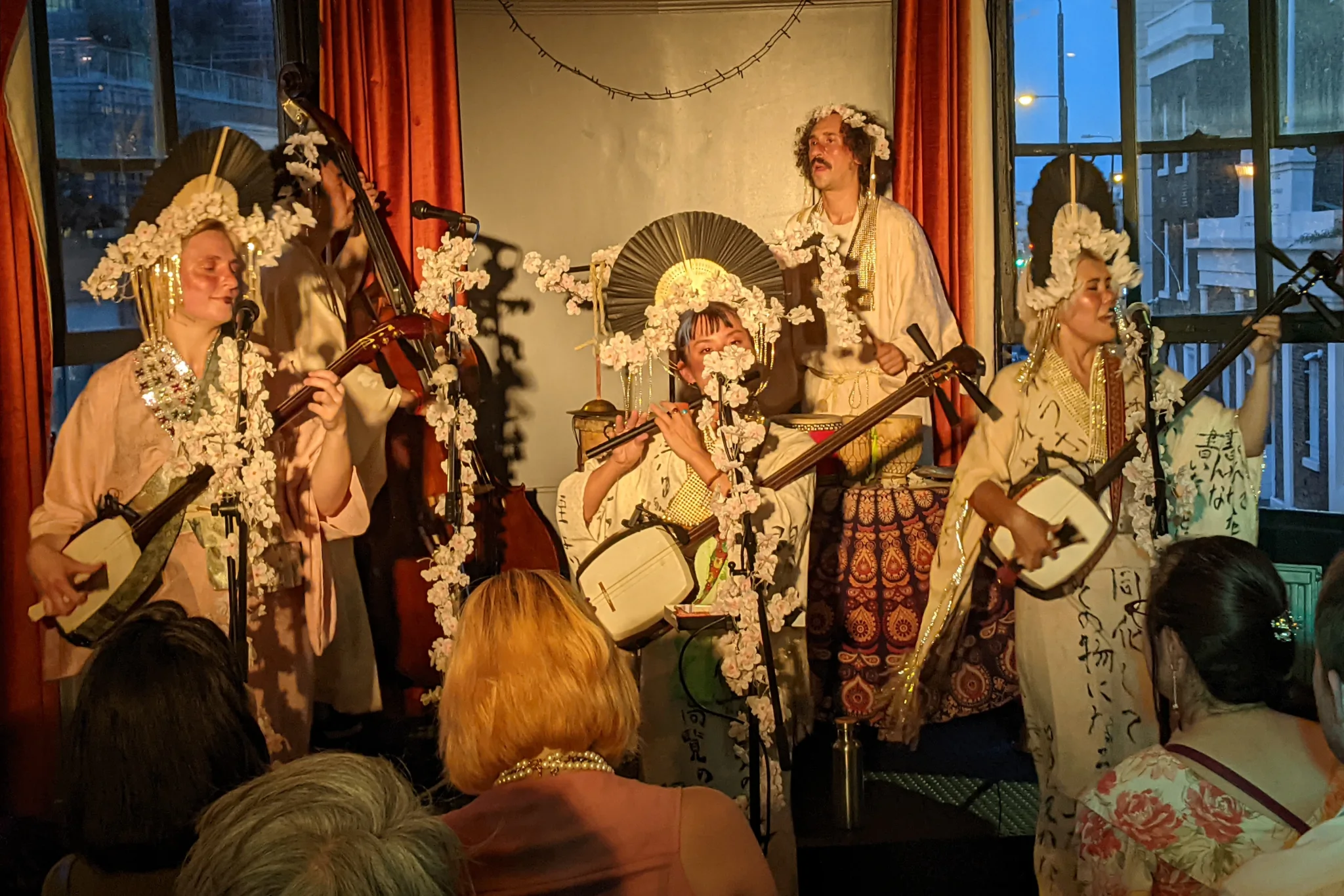 On Saturday evening, I saw some friends from Berlin playing with their band Mitsune. They started off as a shamisen trio, but they've since added bass (a very good bassist) and percussion and it really grooves. Like with Minyo Crusaders, (a band who arrange traditional Japanese music in Latin styles who I saw live at the Jazz Café at a fantastic gig in 2019), it seems that adding a bassline to traditional Japanese music works amazingly well.
The rat-proofer came to conduct a survey on Sunday morning as the first step in evicting the unwanted tenants who have recently set up home in the wall. They haven't yet progressed beyond the walls, but the scratching is very disturbing at night.
The survey was fascinating: he had a big drum of cable with a camera on the end – a kind of monstrous endoscope – that he shoved into the plumbing and looked around, and I got to see our house from the inside. It seems like a straightforward case. He could see where they're getting in, so by adding some pins and one-way valves to the drains and covering a few vents, the rats will be able to leave, but not to return.
I specifically looked for a humane pest control company; this one is even certified by PETA, who take an uncompromising view on this kind of thing. As well as being kinder than poisoning them (or, even worse, catching them in glue traps), it actually solves the problem, rather than leaving us with dead rats rotting in the walls and a conveniently vacated home for the next rat family. At least, that's the promise.
I know the rats are just living their rat lives, but I'll be glad when they're gone.
I finally tidied my office and it's so much nicer. I have space! I can do things!
It feels like every day this week has brought more ridiculous announcements from the moribund Tory death cult that runs this country, thanks to the votes of a few hundred people in west London: a hundred new licences to drill for oil and gas; a review of low traffic neighbourhoods; restrictions on the abilities of councils to implement 20 mph speed limits; noises about delaying energy efficiency targets and the phasing out of gas boilers. That's not even all of it.
It won't even bring them victory. The best they can hope for is to still be losers, only slightly less so, on a dead planet.
Interesting links of the week: