I worked on Monday. There was a public holiday for the funeral, but I'd rather take a day off when things are open.
We saw Gwenno live on Tuesday, from the front row. She has an amazing stage presence. Most songs were in Cornish, with a few in Welsh, and she got the room singing along to the chorus of Eus keus? in Cornish. I think I found that a bit easier than most, as if you know other Celtic languages there's a bit of familiar grammar to map it onto.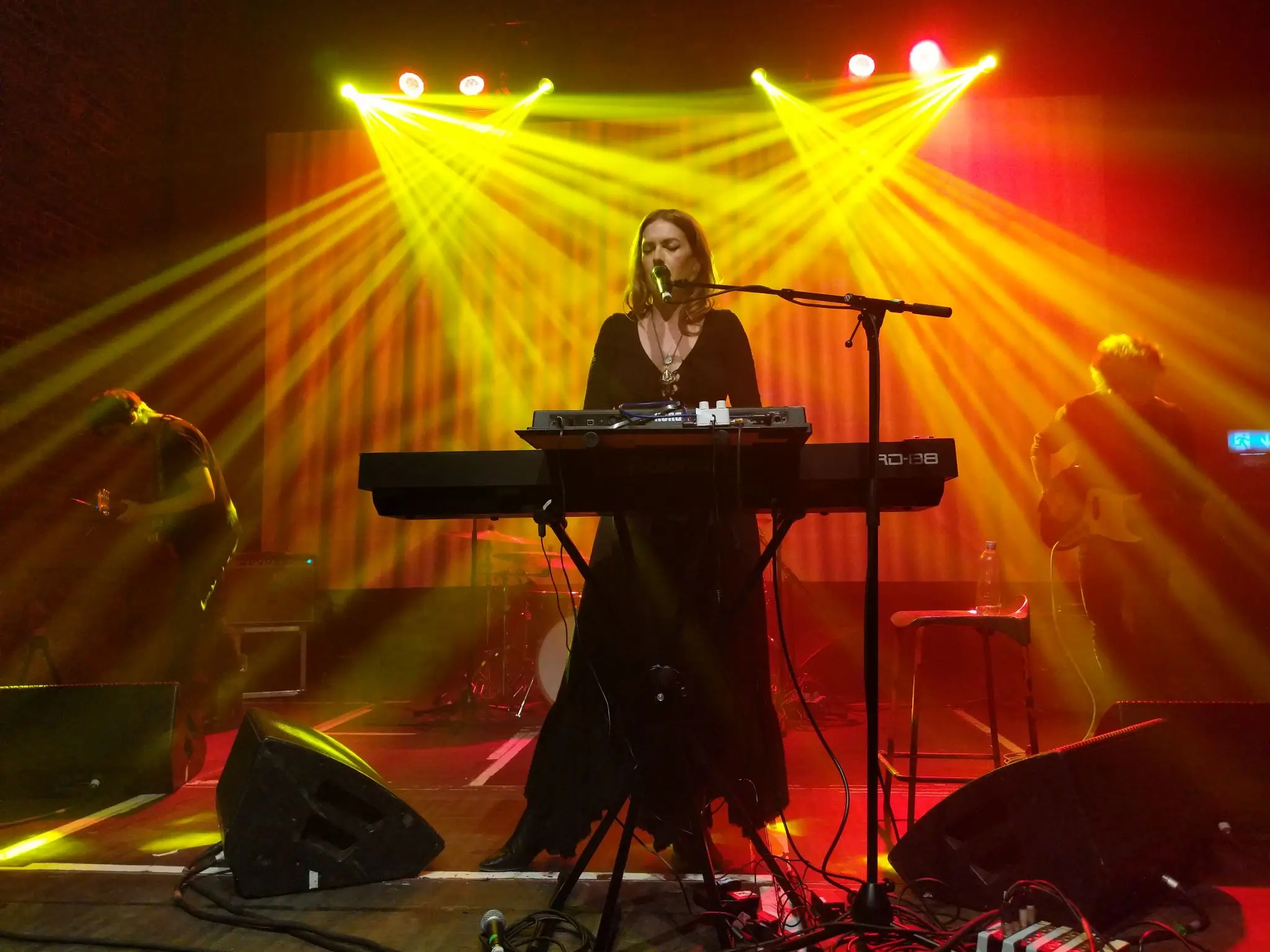 There was a bit of drama at the end, when the stage lights strobed for a solid couple of minutes and someone behind us passed out. It was a bit too much flashing, to be honest.
It was fun, and I went home singing Eus keus? Eus po nag eus?
Before the gig, we went for some food. We wanted to try a place in Boxpark, but since the last time I went (BC) it's taken a turn for the dystopian. They've pivoted the old covid contact tracing into a loyalty scheme, only it's not really a loyalty scheme, because it's not optional and they won't let you in without it. And to get it, you have to fill in a web form of dubious legality, with no marketing opt-outs, and give them your name, email address, and phone number, then load the result into the wallet on your phone.
I didn't get that far. I looked at the form, decided I had too much self-respect to give a bunch of jumped-up shipping containers my personal data, and said "fuck this, it's ridiculous, let's go somewhere else". We ended up at Pizza East across the road (another tentacle of the Soho House empire), where we were early enough to get a free glass of wine each with our meal. I feel like I won that round.
Shoreditch feels different from how it was when I worked there a few years ago. There's an overwhelming private security guard presence everywhere, crowds of bouncers on every entrance, and a rather oppressive vibe as a result.
I visited a couple of exhibitions at the Tate Modern on Friday. First, I saw Lubaina Himid's show, which ends next weekend. One review described it as wistful, and perhaps that's not a bad description. It's a combination of conventional paintings and larger sculptural pieces (including one enormous one) with some immersive multiple-speaker surround sound installations. I wish I'd picked up the booklet, because the notes weren't repeated on the wall as usual.
After that, I went upstairs to see Maria Bartuszová's sculptures. They're mostly plaster (which seems terrifyingly delicate to curate) but used in surprising and unusual ways. It completely defied my expectations of what you can do with that medium. I'd really recommend this exhibition.
We put on Okinawa Day on Saturday and it all ran smoothly. The sun shone for most of the day, and it didn't rain, although the wind got a bit chilly towards the end. The turnout was excellent, despite the relative inconvenience of a venue ten minutes' walk from the nearest station. I was pleased to see many friends there. It was, apparently, the largest crowd ever for an event at the Blue Market.
I'm happy, I'm relieved it went well, and I'm very glad it's over! Being involved with organising an event is quite stressful.
I made some sloe gin. Well, I started the process. I found sloes on a couple of walks recently, and brought a decent amount home. Always carry a bag for forage! They've been in the freezer waiting for me to acquire some jars and gin. I might be able to try some around Christmas.
Speaking of which, I've ordered a Christmas tree. It's cheaper if you buy it early, and all the delivery slots are available. I've gone for 6 December to get a decent amount of festive cheer out of the investment.