Week 84: A very long walk
It's been another hot week. I spent Thursday on a very long walk in the countryside, from Leagrave to Harlington, just north of Luton.
I didn't realise quite how long it was until I was near the end, but it was OK: my (reapplied) sunscreen held up along with a hat and a keffiyeh to keep the sun off my neck. I don't think I've ever sweated quite so much: my T-shirt was white with salt by the end. But even though it was a hot day, it was more pleasant to be outside than it would have been at home.
It was a spectacular walk, idyllic in some places, spectacular in others. Barton Hills looks like something from a fantasy film, and a photo can't do it justice.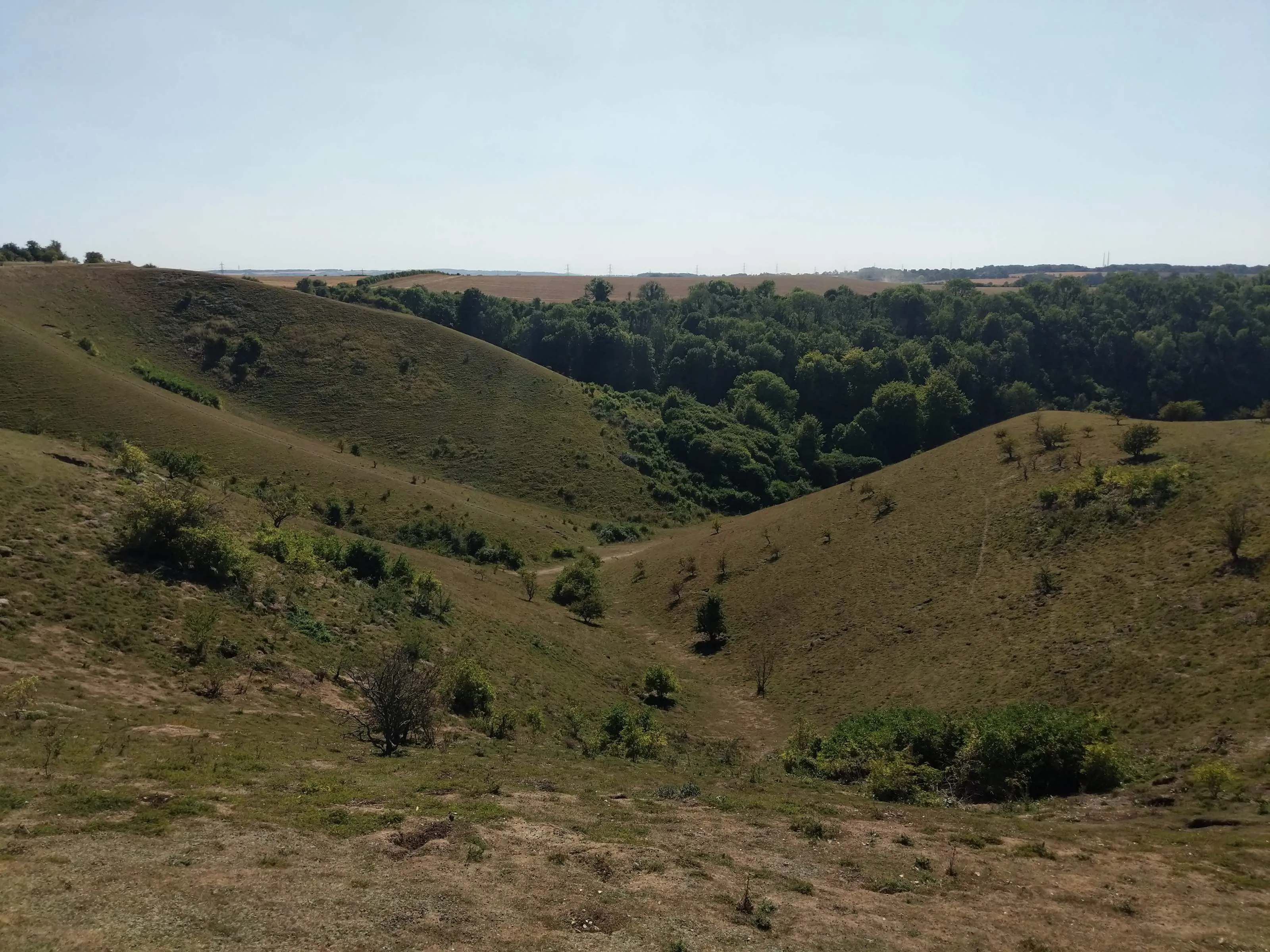 It was also full of wildlife. While standing on top of Barton Hills, a huge raptor – a buzzard, I think – hovered over the valley so close to me that I could hear its wings.
The signs of weeks without rain were all around: dry grass and huge fissures in the dried-out earth.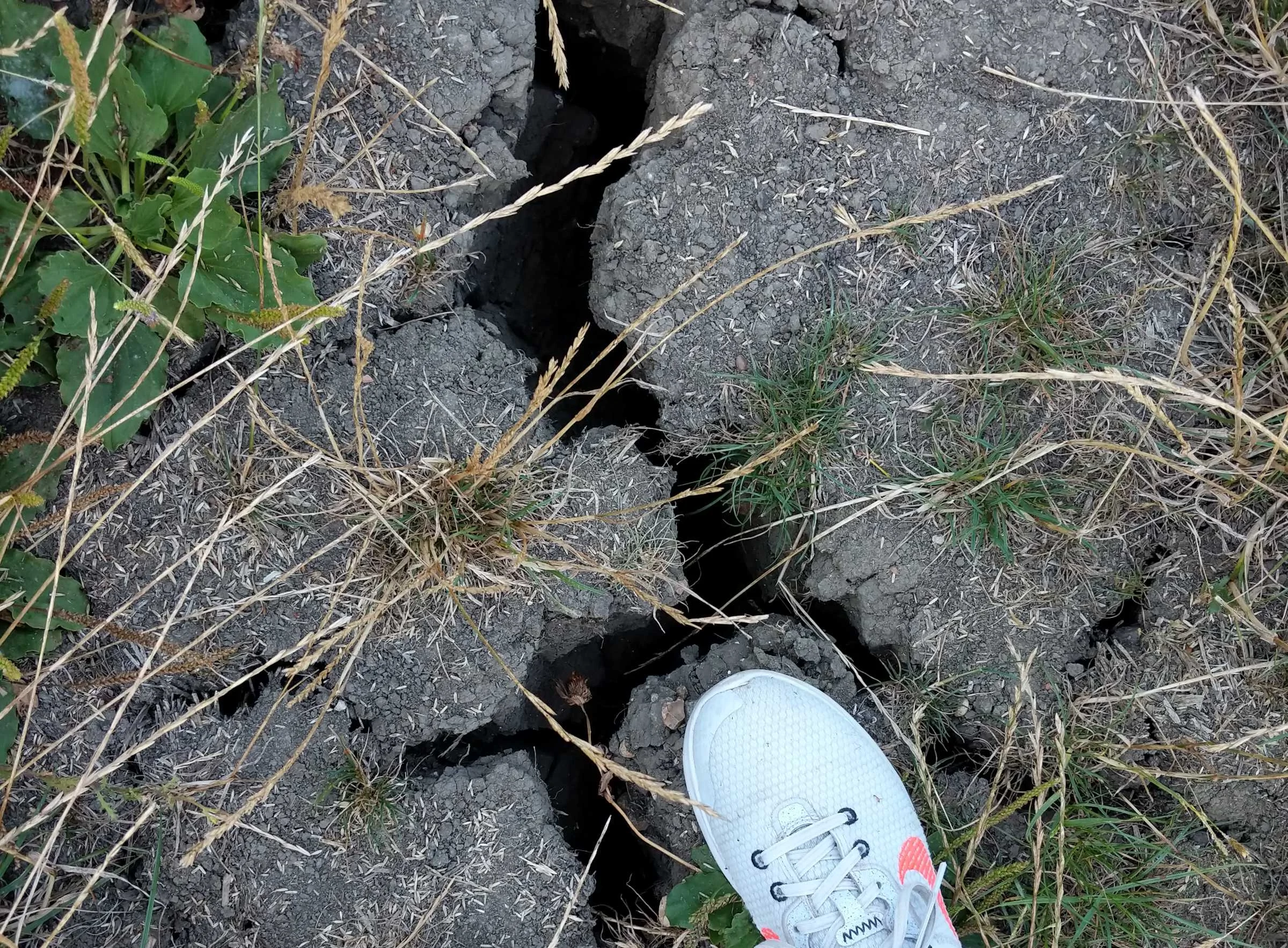 At lunchtime, a wasp took a dangerous interest in my pint. Dangerous for it, because I had to fish it out, quite drunk. I tried to deposit it outside, but it flopped from the teaspoon onto the carpet, where I watched it stagger and dry its wings, until an oblivious small boy stepped on it. I thought it was a goner, but a few minutes later, I was being circled again by the wasp, risen from its putative grave. Fortunately, it wasn't an angry drunk.
I ended up getting home quite a bit later than I had intended, mostly because the walk was long, but partly because I had trouble getting there. I arrived at London Bridge station, typed in my destination on the ticket machine, only to be told that there were "no fares available". And yet "Harlington (Beds)" was right there on the destination board! I tried another machine, with the same result. So I missed the train I'd intended and had to waste ten minutes queueing for the staffed counter. The reason the machines wouldn't sell me a ticket, apparently, was a failed overnight transfer of Thameslink ticketing data. But I managed to buy a ticket and took the next train, only a quarter of an hour later (plus a few more minutes for the usual delays that attend British trains).
On the whole, I like Thameslink. The trains are new and spacious, if a bit utilitarian. The service is cheap, it's frequent, and it crosses the city south to north without needing a miserable trip down to the Underground.
There are rail and Tube strikes on this coming week, so I shan't be taking any day trips. I'll have to look for a local walk.
Yet again, thank to our vegetable box, we ended up with more than we could reasonably eat, so I roasted some lettuce. Cut into quarters, brushed with oil and crushed garlic and seasoned, it makes a very tasty accompaniment to a meal.
I'm looking forward to some cooler weather this coming week. I've had enough of the unremitting day and night heat.