On Monday, I had my hair cut by a professional for the first time in months. It's definitely an improvement. I've been getting my hair cut by the same person for a decade or so, so we know each other pretty well by now. It's one of those little things that feels like putting down roots, and something that I've missed.
Afterwards, I met Tom for a couple of beers outside a pub. Unsurprisingly given my recent activities and Tom's interests, we talked a lot about electronic music hardware, among other things. I very much enjoyed it. As I stood up, I also realised how long it had been since I drank two whole pints at a sitting.
It was still a little cold outside, even on a sunny day, and I can easily believe the Met Office when they say that it was the coldest April in a century.
I had my first dose of covid vaccine on Tuesday at Guy's Hospital, in a big field tent in a courtyard. It was another sunny day, so I walked along the river to get there, and through the backstreets of Bermondsey on the way back.
I got the AstraZeneca vaccine, ChAdOx1-S. ("ChAd" as in "chimpanzee adenovirus", not this guy.) I had the injection at 12:30. The procedure was fine, and I felt OK afterwards. I had a nap in the afternoon, but I often have a nap in the afternoon, so that's not necessarily significant. However, by about 20:00 I was achey, felt freezing cold, and was shivering like a cartoon character. I was even beginning to wonder if I was, in fact, a chimpanzee. The chills and shivering went away after a couple of hours, but I had a high temperature all night, and slept very fitfully.
By Wednesday lunchtime I felt better except for the effects of sleep deprivation, and after sleeping a couple of hours in the afternoon I felt back to normal by that evening.
I'd describe the whole process as a kind of covid speedrun, running through a lot of symptoms in about 36 hours. It wasn't pleasant, but it wasn't too bad. Don't let it put you off, just be prepared that you might not be able to do a full day of work afterwards. Or you might be fine! Humans vary.
Nothing happened with our house purchase this week. We still have two months until the stamp duty holiday ends, there's no chain, and it's currently vacant, so I'm not panicking yet, but I do wish they'd all hurry up. I prodded the estate agent to prod the vendors' solicitors to reply to whatever enquiries are currently outstanding. Why can't people do better?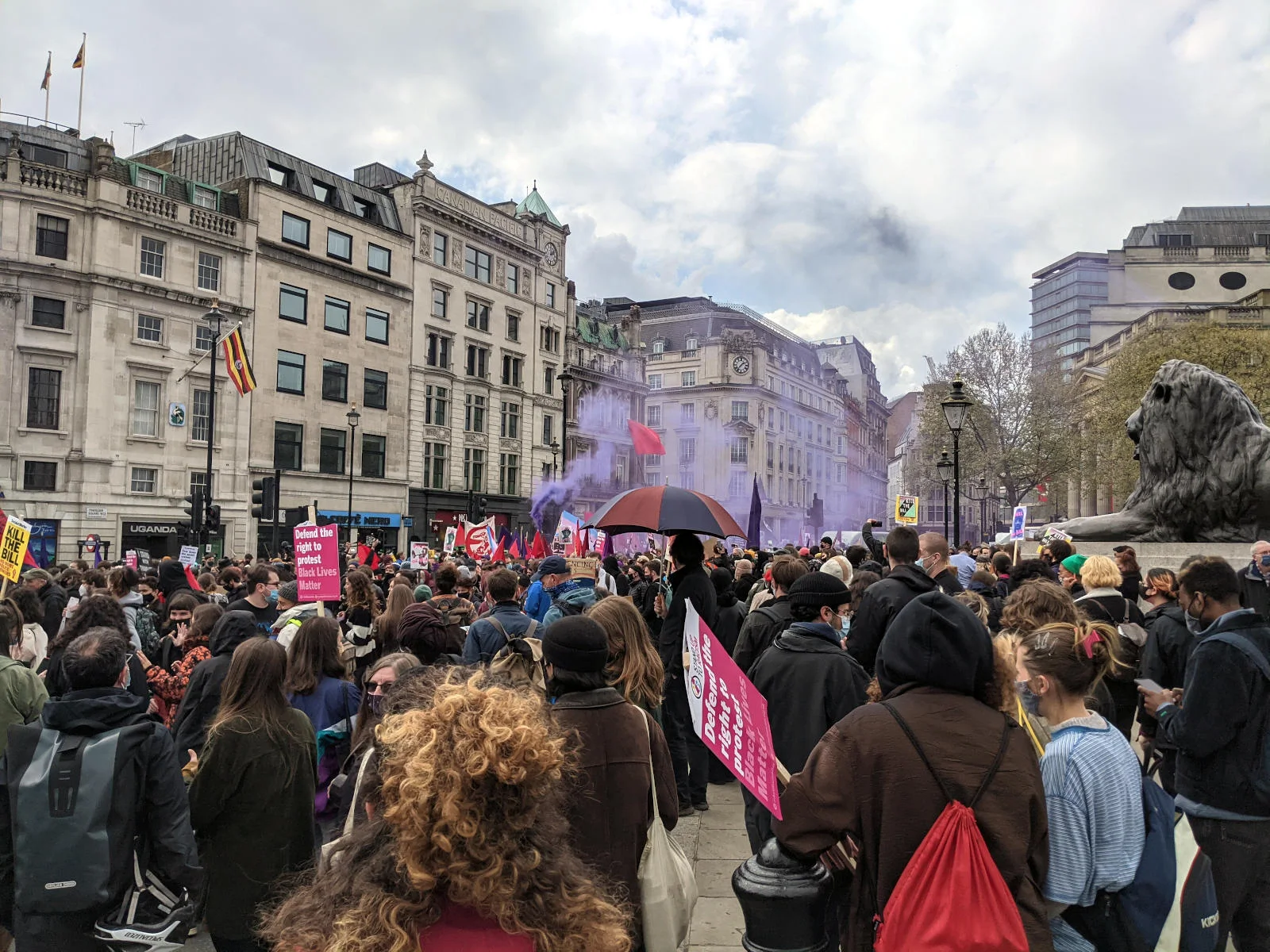 We celebrated May Day on Saturday in the only proper manner: by protesting against the Police, Crime, Sentencing and Courts Bill. I definitely got my 10,000 steps in yesterday. Probably twice over.