London cyclists: take care this weekend
The enormous lorries used by construction projects are probably the biggest threats to cyclists on London's streets. The drivers of these vehicles have limited visibility of other road users (when they are even paying attention), and some of the lorries are classified in a way that makes them exempt from safety legislation.
Only this morning, a cyclist was seriously injured in a collision with a tipper lorry in Southwark.
This weekend, however, it gets worse:
This weekend cyclists are being warned to take extra care when hundreds of 32-ton lorries pass through central London to The Shard building site near London Bridge station.

Starting during evening rush hour on Friday 16 April 2010, and lasting for 36 hours, almost 700 return lorry trips will continuously pour 12,500 tons of concrete into the foundations of Europe's largest building site.

This amounts to an extra lorry on London's streets every 2-3 minutes.
The LCC helpfully describes the route that the lorries will take, but I thought it might be more useful to put this information on a map, so I did just that: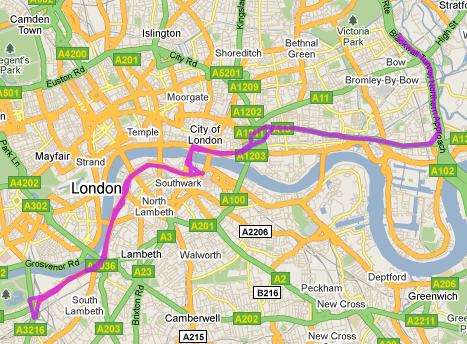 (The LCC have since added a map of their own.)
I hope it's useful. Steer clear of those roads if you can, and stay safe.