One of the most annoying things in China is being within spitting distance (I use the term advisedly: expectoration is a national pastime) of your destination, but with a six-lane highway between you and it. Getting to the other side often involves a lengthy detour via an underpass or footbridge, adding hundreds of metres, or, if you're lucky, a pedestrian crossing. In some cities, that's OK. In Xi'an, there's an extra dimension of excitement: there are no traffic lights.
But Xi'an's traffic flows surprisingly well in spite of this. Vehicles negotiate based on size, speed, and by possession of a patch of ground. In the same way that an HGV can always pull out of a little side street in England, a bus in Xi'an can always get where its driver wants it to go, but the little guys don't seem to get crushed to death—at least, not as often as you might assume. Rather like those Dutch experiments, it seems to work: everyone keeps an eye out for everyone else, which is probably at least as safe as blindly claiming the right of way. It still takes an unaccustomed boldness to stride out into the middle of a busy road the first few times, though.
I arrived in Xi'an yesterday morning on the overnight sleeper train from Beijing. It's a bit over eleven hours, but I spent most of it blissfully unaware. Last time I took an overnight train in China, I went for the 'soft sleeper'. This time, there were none available, so I had to settle for a 'hard sleeper' instead. The name's a complete misnomer. The beds are the same. You get blankets, a pillow, boiling water on tap, and all the normal amenities of the soft sleeper. The differences are: six instead of four beds per compartment (three high); no doors on the compartments. That's it, really. And the hard sleeper's quite a bit cheaper.
Two things that really make sleep possible on the sleeper train are an eye mask and earplugs. The mask is to keep out the lights from pauses at isolated stations in the middle of the night. The earplugs are because the train makes all sorts of strange noises. Thanks to these two items, I slept soundly throughout, waking up refreshed and ready for a day of tourism.
I spent my first day in the city wandering around a few sites in the centre. The Bell Tower and the Drum Tower both gave excellent views of the city. The Stone Forest museum has lots of stelae (big stones with writing on), but lacks something if you don't read Classical Chinese.
In the evening, I took advantage of the opportunity to make and eat some dumplings (jiăo zi) in the hostel, and ended up being filmed by a crew from Hong Kong making a travel programme for cable TV. Strange: it's the second time I've come to China, and the second time I've ended up being on TV as a result!
Despite chatting and drinking beer late into the night, I managed to wake up early this morning to go to see the Terracotta Army, one of my main reasons for visiting Xi'an . It turned out to be a bit underwhelming. I wouldn't say that I was disappointed, just that I was expecting more, somehow. The exhibition doesn't quite convey the scale of the achievement, and the distance between the visitors and the artefacts lends the whole experience a sense that you're looking at mantelpiece ornaments. I suppose that if, rather than peering from the margins of a large hangar, you could get among them, it might improve the experience, but I'm not sure how this could be achieved in practice.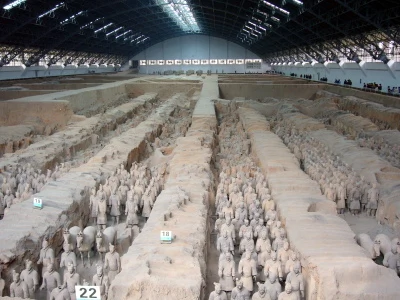 I'm still glad I went—and I get to one-up everyone who's seen the dozen on display in London!
I used public transport to reach the excavation site. I could have paid RMB 180 for a tour from my hostel, but it would have taken the whole day with all the inevitable detours to souvenir shops and other tat emporia along the way. And I wouldn't have been very free to do things at my own pace. Instead, I took the public bus for RMB 7 each way and paid the entrance fee of RMB 65. I got there early to beat the crowds, saved money, and I was back in Xi'an for lunch.
That gave me time to rent a cycle (RMB 20) for a ride around the top of the city walls. It was hard work: it's a good hour and a quarter all the way round even at my brisk pace, and my posterior was beginning to suffer after about an hour of the bumpy terrain. It's really good, however, and I'd thoroughly recommend it as an activity for anyone visiting Xi'an. You do get to see a lot from up there.
I've got one more day here in Xi'an; tomorrow night, I'm back on the sleeper train to return to Beijing in time for my flight home on Tuesday.