Creative Zen Stone Plus first impressions
I bought a 2 GB Zen Stone Plus (awful promo site) at the weekend. I've got a hulking great 3rd generation 40 GB iPod that I use to play music at home, but I wanted something a little smaller and easier to use for most of my use cases. I'd been thinking about getting a fancier mobile phone that could also play MP3s, but, in the end, this was a better, cheaper solution.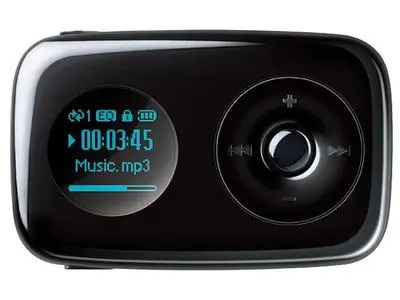 The problem with the iPod is, for me, iTunes. It's just too much hassle. I don't want to fire up a big, special application. I don't want streamlined purchasing, because I have no desire to buy anything with DRM that would lock me into iPods forever. Most of the stuff I want to listen to is spoken word: comedy and plays recorded off the radio, that I'll listen to once and delete (or maybe archive away).
All I want is to drag a couple of MP3 files over to the player, unplug it, and listen. And the Zen Stone Plus lets me do that. It just appears to the computer—any computer—as a USB disk drive.
It's also got really appealing industrial design. 'Zen' and 'stone' are both really appropriate words to describe it: it's small, black, shiny, and pebble-like, and it has a kind of Japanese temple aesthetic to it.
Other good stuff: it has a screen so that I can see what I'm listening to. It has a bog-standard mini USB connector on the bottom. There's an FM radio, too, which is a nice bonus. It's got a microphone and works as a recorder.
It's not perfect: it doesn't sort tracks by ID3 tag. Instead, they play in the order they appear on the disk (unless random order is selected). The battery life is a bit shorter than some competitors at nine and a half hours, but I can't see that being much of a problem except on really long journeys.
What Creative have done is to produce a small, competent player that does most of what I want very well. Battery life aside, it's a far better device than the similarly-priced iPod Shuffle—it has a display, for a start—and it's far more flexible absent the need to pander to Steve Jobs's control freakery and Apple's Faustian bargains with media oligopolies.