After several months of work obtaining and assembling the parts, I finished putting together my fixed wheel (aka fixed gear) bicycle a couple of weeks ago, and it's every bit as fun as I'd hoped. It's drawn many comments from my colleagues, ranging from 'you must be mad to ride that' through to appreciation of its minimalism. I'm really proud of it.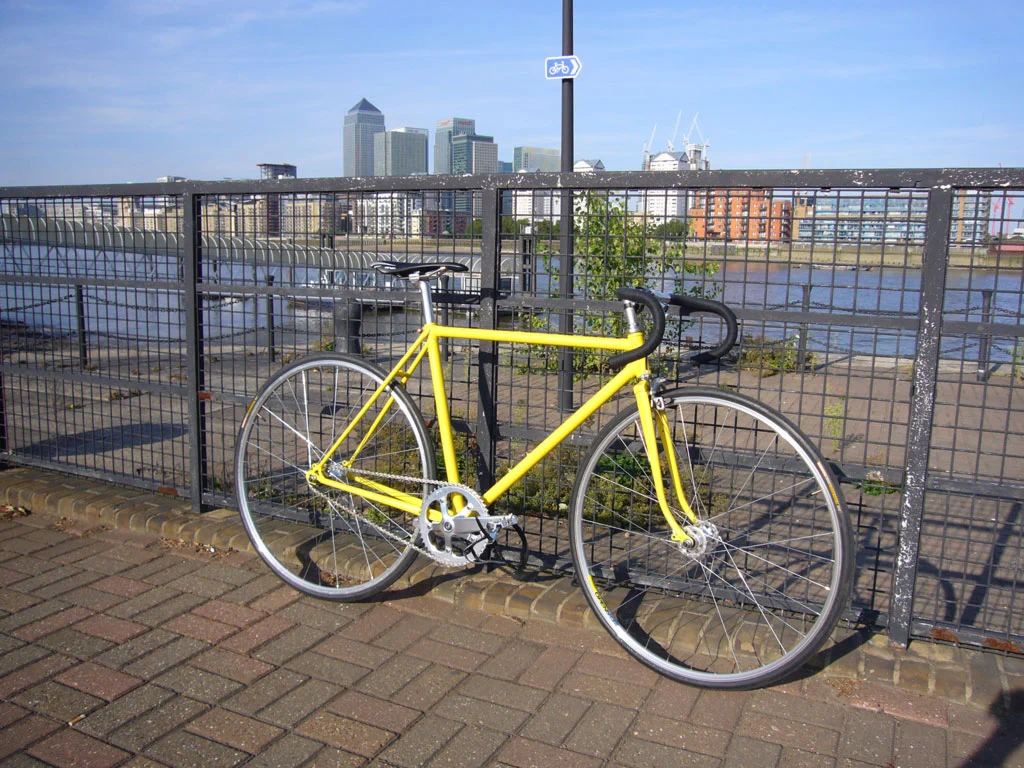 I started off with an unloved old Raleigh racing bike in my size (49 cm: I have short legs). It was never a high end bike, even in its day, but the lugged steel frame was light, elegant, and had horizontal dropouts (essential for adjusting chain tension on a fixed gear). It was even lighter once divested of the derailleur mechanism and the heavy steel wheels.
I stripped down the frame, fixed a few rust spots, prepared it, and painted it with bright yellow Ford car paint and a couple of coats of clear lacquer. It came out pretty well, but I wouldn't do it again. It's a lot of work, and it takes more paint than you'd expect. It was satisfying to do it myself, but probably didn't save me much money.
With parts found on eBay, ordered from random online retailers, recovered from the original bicycle, and scoured from bicycle shops all over London, I put it together bit by bit. The hardest part was sorting out the right combination of chainset and bottom bracket to line the chainwheel up with the rear sprocket, but some time playing around with calipers and rulers in an indulgent bike shop helped me to sort that out.
I've learned a lot—and gained plenty of specialised tools—during the build. Ironically, I have also learned where I could have bought a very similar complete bike off the shelf! (But where would be the fun in that?) I've found out which cycle shops are particularly worth going to (Cavendish Cycles in the West End and Brick Lane Bikes) and which aren't (Evans).
The first couple of rides were a bit scary while I got used to the different technique required, and the hardest part has been getting the hang of putting my left foot into the toeclips while the pedals move inexorably away. Now that I'm used to it, I'm really enjoying my commute. I'm running the bike on 49×18, which gives a 73½-inch gear. That seems to work well on the flat roads around here. I find myself riding more consistently, rather than in a furious cycle of acceleration and braking. I hold back to hit the lights on green instead of racing to sit at the front. It's calmer and less effort overall.
I can see why people become a bit obsessed.