I finally took advantage of the fact that I was eligible for Irish citizenship. A trip to the embassy with my birth certificate, €70 and four weeks later, I received this: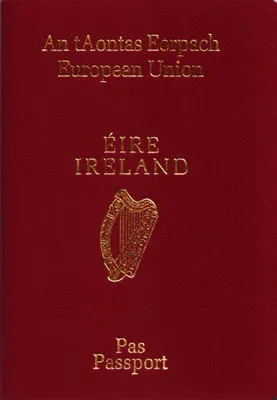 I now have two nationalities. Yes, it's perfectly legal: although some countries don't allow dual nationality—Germany and Japan, for example—both Ireland and the UK do.
I get some advantages. I can still travel even when one of my passports is away to be renewed, or if I lose one. Furthermore, when Tony Blair's ill-conceived political exploits have made British nationality a disadvantage, I can travel on a neutral passport. And if I were to visit two mutually antagonistic nations (USA and Cuba or Israel and Malaysia), I could hide the inconvenient visa stamps.
It's interesting to compare the English in the two passports.
"Her Britannic Majesty's Secretary of State Requests and requires in the Name of Her Majesty all those whom it may concern to allow the bearer to pass freely without let or hindrance and to afford the bearer such assistance and protection as may be necessary."
versus
"The Minister for Foreign Affairs of Ireland requests all whom it may concern to allow the bearer, a citizen of Ireland, to pass freely and without hindrance and to afford the bearer all necessary assistane and protection."
I think I know which one is going to be more comprehensible to your average non-native speaker, especially given the fact that the British text is set in a typeface of near-unreadable floridity and curlicuedness.
On the other hand, the Greek text in the Irish passport has not been correctly typeset: the Greek translation of European Union, for example (which should be ΕΥΡΩΠΑΪΚΗ ΕΝΩΣΗ) is written using Roman letters with mathematical symbols for the omega, pi and sigma, like this: EYPΩΠAÏKH ENΩΣH. It doesn't look quite right on paper, although it probably looks fine on a computer screen.