Someone at work told me last week about Taisho-ku and its large Okinawan population. It piqued my curiosity, so I decided to visit it when the chance arose. Today was a holiday, I woke up early (in my bed, readers will be glad to hear), the sun was shining with no threat of rain, and I took the opportunity to go exploring.
Taisho-ku is right next to Nishinari-ku, where I live. However, it's separated from Nishinari by the Kizugawa, a river about 150m across. In fact, the whole of Taisho-ku is surrounded by water of sufficient impassibility that it might as well be considered an island. It's served by the JR Loop Line, from which one might infer that the place is easy to reach, but that's not really true. Taisho station is at the northernmost tip of the area, leaving the rest of the 2km wide and 4km long island with no train service. Rather like Okinawa. Okinawa is the only prefecture in Japan with no railways, incidentally.
However, I found it easy to get right to the middle of Taisho-ku. All I had to do was cycle west until I reached the river, then wait for the ferry. It's free, runs every fifteen minutes, and you can take your bicycle. In fact, there are three ferry routes between Nishinari-ku and Taisho-ku; I took the closest one. I'm surprised that the ferries exist: given Japan's notorious enthusiasm for construction projects of even marginal usefulness, I'd have expected a bridge or five. Still, the ferry adds an interesting element of variety to the normal means of getting around.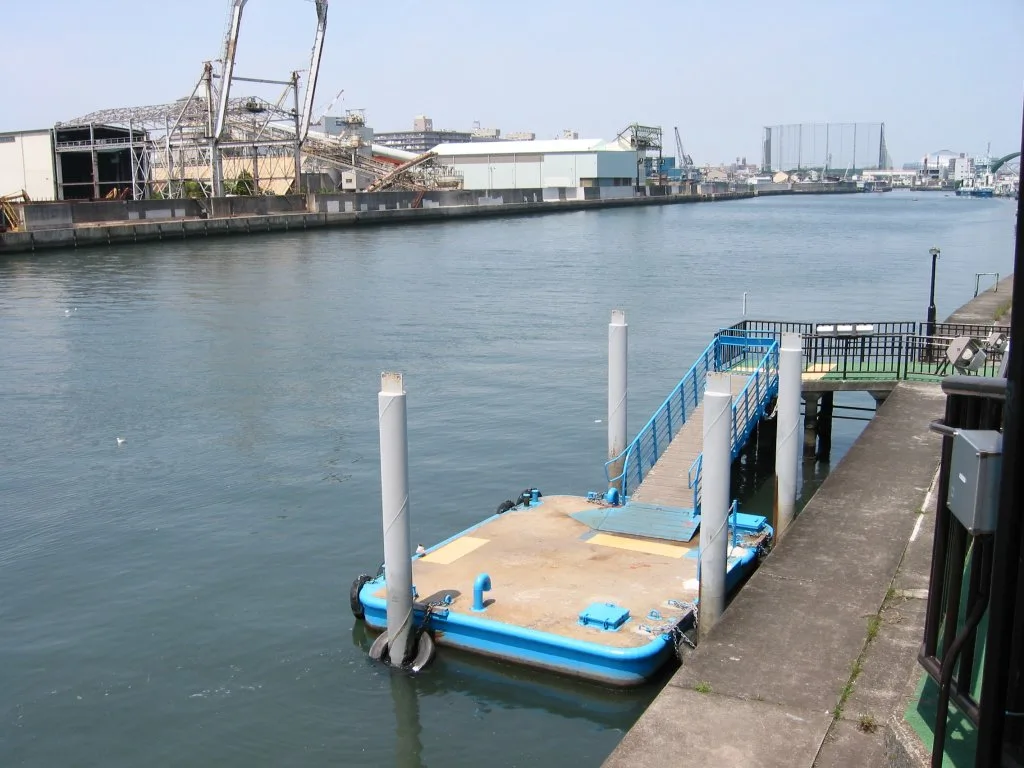 View north along the Kizugawa; the UFO-like building in the top right is Osaka Dome.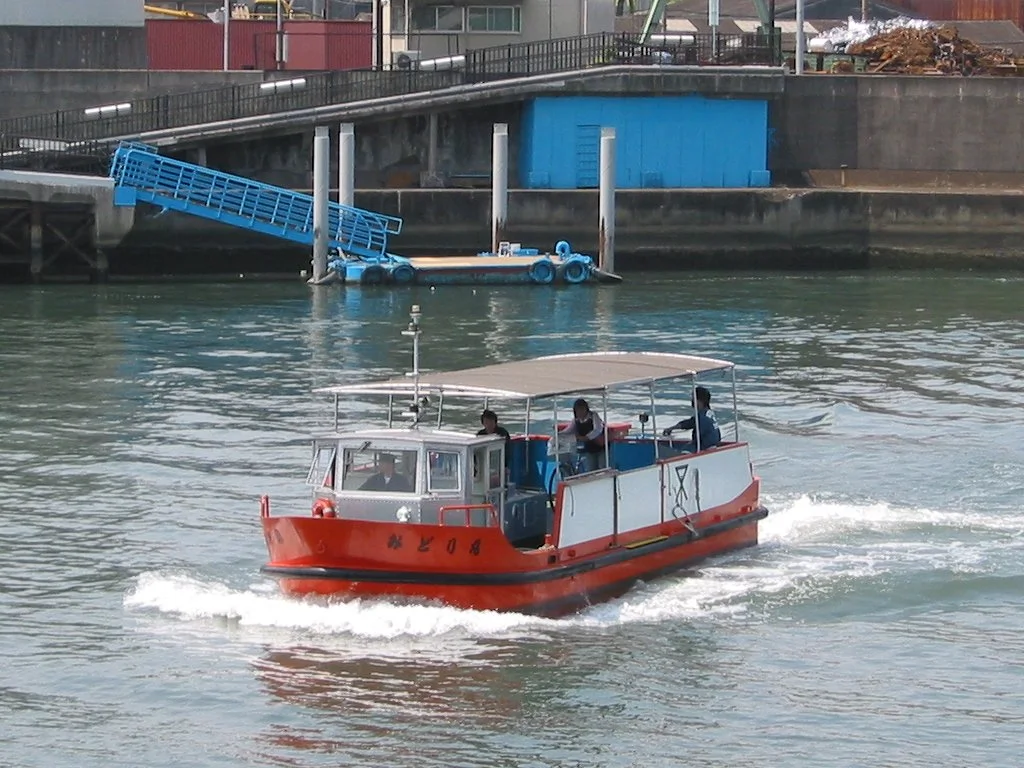 The Midori-maru, my passage across the river and back again today.
Perhaps because of its relative inaccessibility, Taisho-ku has a noticeably different ambience to its neighbours. From my brief visit, I found it a bit less crowded than the area where I live.
My first stop was Hirao Hondōri, a street reputed to sell many Okinawan products. Unfortunately, as today was a public holiday, the majority of shops were closed; only the grocers remained open. However, I was indeed able to see a variety of produce that I wouldn't usually expect to see in Osaka, such as sugar cane, the lumpy bitter gourd known in Okinawa as gōyā and sātā andagī (a doughnut of sorts).
Chijima Park in the middle of the island is beautiful. It packs trees, flowers and assorted greenery into a quarter of a square kilometre, but seems much bigger on the winding paths through the woods and up the hill. Unlike most parks in Osaka, it actually has grass. The park has no entrance fee yet none of the homeless tent shanties ubiquitous in the areas immediately to the north and east of Taisho-ku. Puzzling indeed.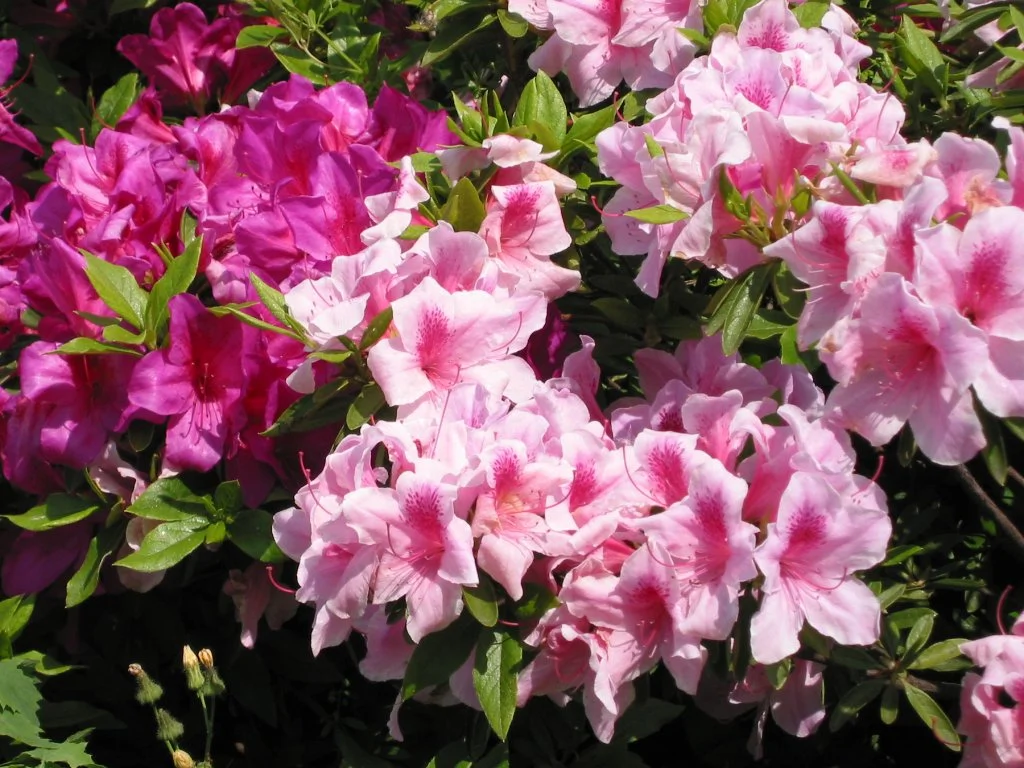 Chijima Park is full of bright pink hibiscus flowers—just like Okinawa.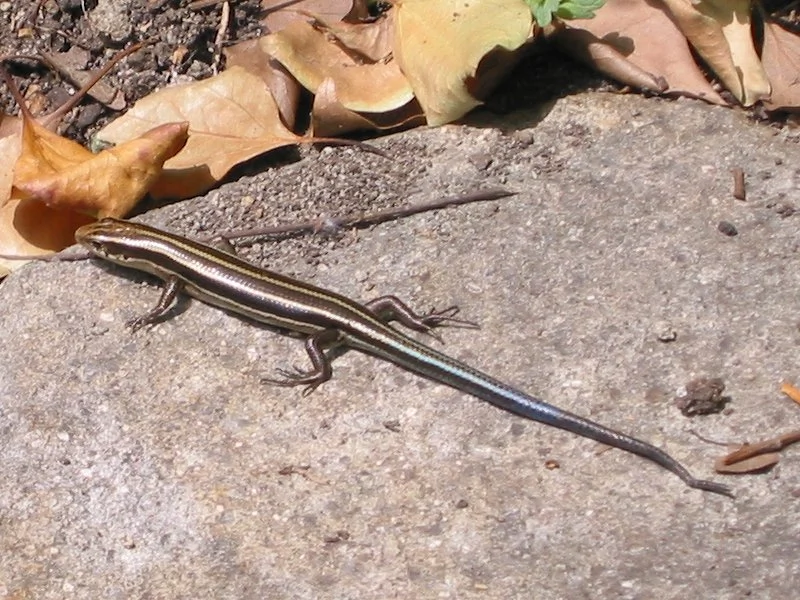 I spotted this tiny lizard at the side of the path.
Few things can be better on a hot day than a bite to eat and a beer under the shade of a tree, and that's exactly what I did. I came away feeling more relaxed than I have in a long time.
As I mentioned, it was a hot day. I know that my pasty Caucasian skin is no match for the sun. In fact, how anyone could ever consider a race of people who can't survive outside a "master race" is a mystery. It seems to me that white skin ought to be considered a hereditary defect. Nonetheless, knowing my limitations, I put on a long sleeved shirt, a hat and sunglasses.
In spite of my precautions, I now have an itchy red band across each hand.
Given that the Japanese schoolchildren are already mystified by my freckled arms, I wonder what they'll make of my new stripy red hands tomorrow!